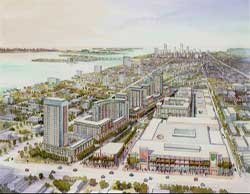 Do we really need another shopping center in Miami? My answer will always be ABSOLUTELY!!  There are never enough places to shop.
The Shops at Mid-town were created as the retail component of the Mid-town Miami project which is known for its "city-within-a-city" concept.
So I have to admit that at first I thought the location was pretty scary, but when I heard that West Elm was going to open a store there I was thrilled.  I have been buying West Elm furniture through a catalogue for years and could not wait to walk into a store.
You will find several big chain stores like Target, Marshalls, PetSmart, Linens-n-Things, Circuit City as well as other smaller specialty retailers – there are over 600,000 square feet of retail space!
I visited the other day and the smaller stores are still empty or in the process of remodeling, but the big guys are open, including West Elm.
They have on-street parking as well as parking garages, so you don't have to worry about that – you can also see how Mid-Town Miami is progressing in the background.
For more information about this and other Miami projects, contact RICK & INES at info@Miamism.com