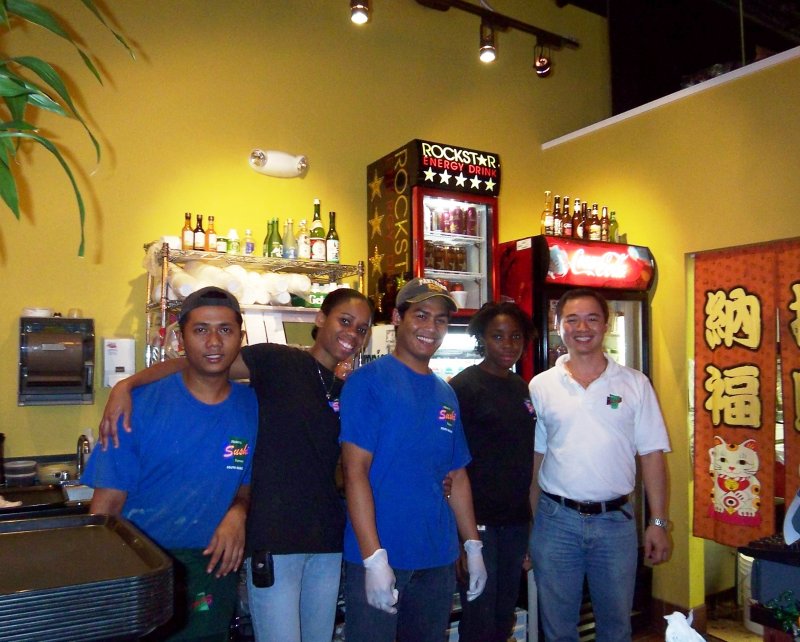 South Beach Hiro's Sushi Express
I have to admit that seeing the words "SUSHI" and "FAST FOOD" in the same sentence makes my stomach churn.  How wrong was I !!
We ran into a friend that told us that he had opened a Sushi restaurant in South Beach and we should go try it.  This guy (Sui Tam) is a genius when it comes to food and customer service so we HAD to try out his restaurant.  When we got there, we were surprised to see that it was one of these small sushi restaurant chains that we have seen pop up in a couple of places around Miami.  The variety of sushi is great and the prices are fabulous.
How can sushi be cheap, fast and good???
Don't know…..but Sui Tam did it!  The food is FANTASTIC!!  My kids devoured their rolls and asked for more (and I have to tell you they are picky sushi eaters).
Here's some items from the menu:
The Emperor – tuna, salmon, white fish, crab, shrimp and white tuna.
The Ecstacy – crab, eel and shrimp
California – crab, cucumber, avocado and masago
Salmon Tempura – salmon, cream cheese and asparagus
Tuna California – tuna, cucumber, avocado and sesame
Crunch and Caliente – salmon, crab, avocado, crunchy and spicy hot sauce
Tempura Box – shimp tempura, vegetable pilaf and daily special
The choices are endless and they also have vegetarian plates and choices for kids.  The staff is pleasant and helpful and they let me take a picture, (Sui Tam is at the far right).  Don't you love it when restaurant owners are hands on and there to greet and help their customers?!
Hiro's Sushi Express – South Beach is located at 1518 Washington Avenue, Miami Beach, FL  33139 – (305) 531.6068