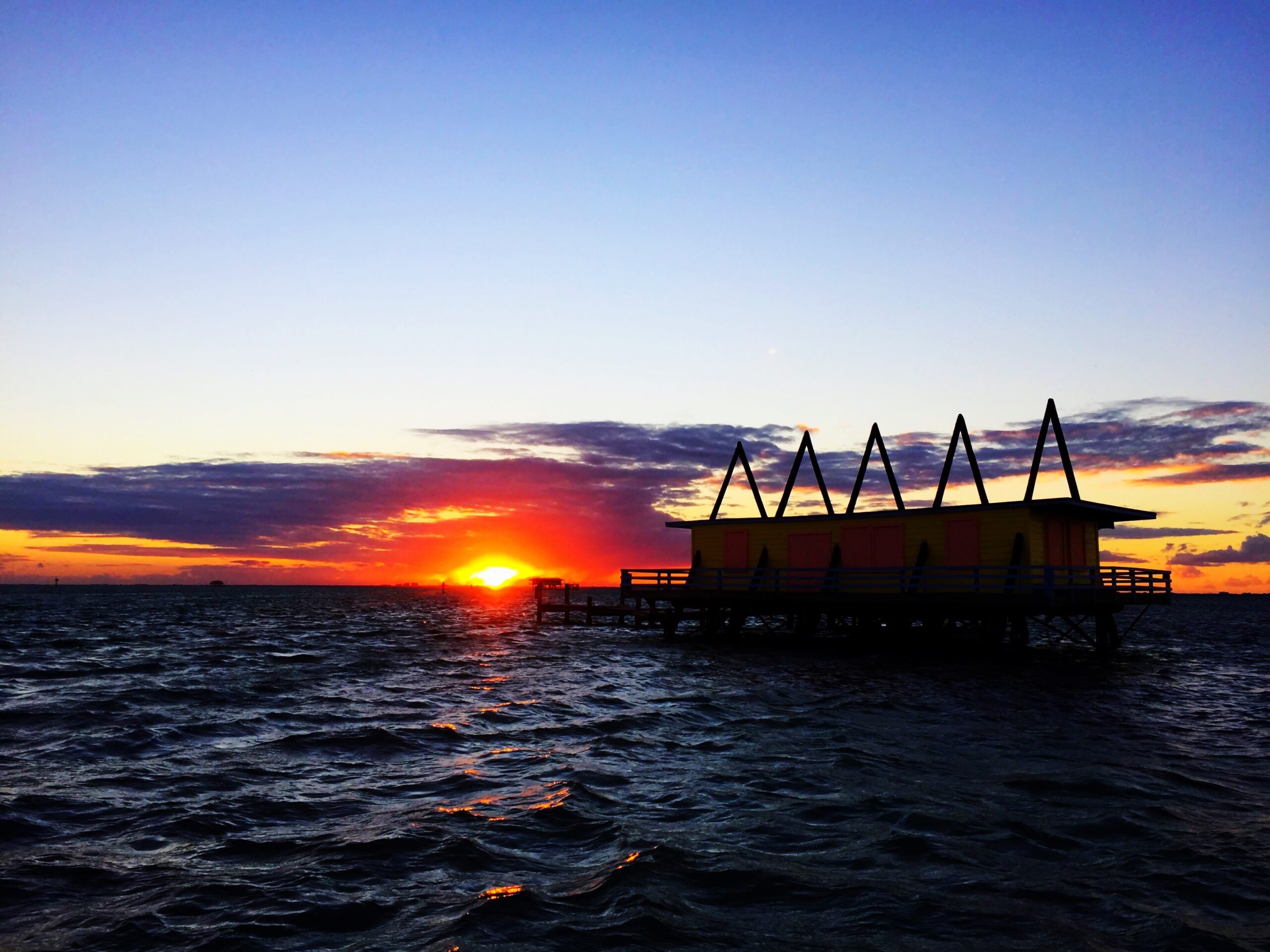 Stiltsville – a Miami Landmark
Talking about our Architecture Posts – STILTSVILLE is key and a major Miami Landmark.  I wrote this article back in May of 2007 and are getting a bunch of questions and information requests about Stiltsville, so we thought it would be appropriate to share again.  In addition, Suzette Laboy from The South Florida Times,  wrote an article about it with Dr. Paul George's take on what's left of this Miami Landmark.  I have retaken a lot of the photos for each house, need to make it a point to share those with you. Take a look at the new photos posted below, taken by yours truly.
Ask and you shall receive – image above and collage below by Michael Pancier Photography (go check out the rest of his amazing gallery).
Stiltsville – A Miami Landmark
When it comes to Miami Beach Real Estate, Stiltsville is famous!  I've always been curious about the history of Stiltsville.  Not many people know about it unless they frequent Biscayne Channel by boat.  These "shack-like wooden structures" just sit there, like monuments in the landscape, a landscape of ocean blue.  Stiltsville is a string of structures on pilings that you can only reach by boat.  Thousands of boaters frequent this area South of Key Biscayne. I decided to take a trip there and photograph each house, not only with the purpose of exhibiting them, but also to document their condition.  The history of Stiltsville is fascinating, at least I hope you find it as entertaining as I do.
The Stiltsville community began in the early 1930's; at one time there were 27 dwellings, used for weekend retreats and parties but seldom for full-time homes.  All these were privately owned and later acquired a colorful reputation as hangouts for "gamblers, boozers and flashy women".
Stiltsville's founder and first resident was "Crawfish" Walker, who had a bait-and-beer shack for passing fishermen.  Soon several more shacks sprung up, some built by prominent Miami businessmen.  In the 1940's the Quaterdeck opened, featuring electricity, a bar, dining room and gaming tables featured in Life Magazine in 1941.  Soon, other clubs with an "anything goes" atmosphere opened up – police raids began in the 50's to stop prostitution and illegal gambling.  In the 60's an eccentric grounded a 150′ yacht on the flats and named it the "Bikini Club".
There are 7 structures left with architecture that is everything but fancy, and were recently saved from demolition with the help of a group of conservationists.  Because the houses stand inside the boundaries of Biscayne National Park, the park service fought that private homes did not belong there.  The land lease would expire and home owners would have to demolish the homes.
One argument to keep these homes is that Stiltsville had become a useful landmark and warning signs for boaters navigating the complicated winding finger channels.  Removing the homes would be detrimental to the surrounding flats in addition to the increase in vessel groundings, and scarring damage to the sea grasses, marl banks and tidal cuts.   Another argument by known historian, Dr. Paul George, sums up the meaning of this place,
It really is an only-in-Miami kind of thing.  It had an aura, a rascally mischievous past. But it was also just a place people could go to enjoy getting away. It would be a terrible loss.
Finally an agreement was reached to preserve the structures under the Stiltsville Trust (made up of all 7 leaseholders now called caretakers and 8 community members).  Now owned by the National Park Service, the homes have been secured and access to the buildings is by permission only.  Possible uses include "community meeting spaces, a National Park Service Visitor Center, research facilities, an artist-in-residence program and satellite park offices that could provide the National Park Service with a presence closer to South Florida's population center in the northern part of the park".
I've always regarded cruise ships leaving the port as a "city detached", but Stiltsville, to me is the perfect representation of just that, and I was happy to hear that this piece of our Miami History was not demolished.
**article originally written and published May 1, 2007**