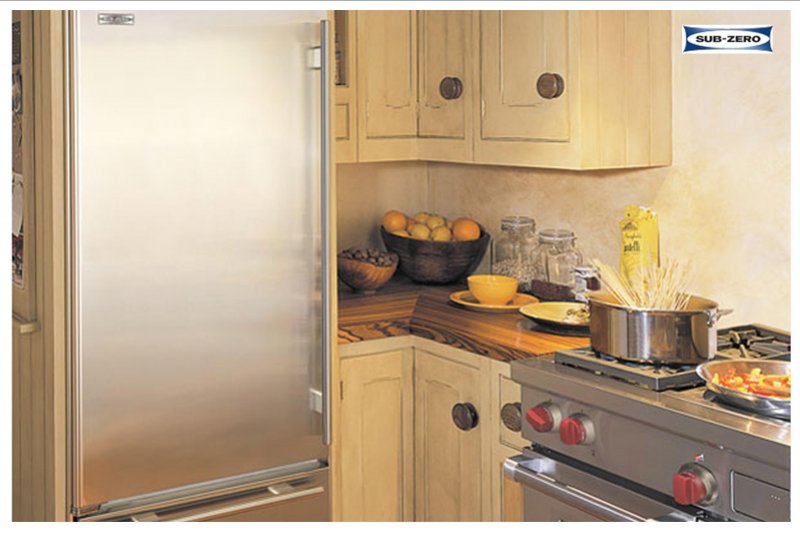 Sub-zero service is questionable
Rick and I are the first ones to advertise top of the line appliances in our listings (from Miami Beach to Miami Shores), whether Sub-zero, Miele, Wolf, Bosch, Viking.  As an architect, top of the line appliances are a must, not only for aesthetics and prestige but because they are supposed to be superior.  Top of the line appliances cost a lot more than regular appliances and you expect superior customer service from the makers.
I'm about to give you bad news, if you are a die-hard Sub-zero fan you may not want to read this…..proceed at your own risk.
I convinced a client to install a Sub-zero refrigerator in a vacation apartment in Aventura that only gets used two months out of the year.  The refrigerator cost 4x's as much as a regular refrigerator, but I talked about re-sale value of the apartment, about "elite appliance status" (if it would ever exist), about superior customer service.  Well…..now I have my tail between my legs because Sub-zero has managed to make me look horrible in the eyes of my customer and I am sure they wished they did not listen to me.
They are vacationing in Miami and when they arrived they found that the refrigerator was not cooling.  They called the Sub-zero authorized dealer and have to wait 8-10 days for the refrigerator to be fixed.  The parts are on back-order, the service company does not return calls, they have scheduled a repair day and have had to cancel.  In all my years dealing with customer service, I have NEVER heard of worse treatment from an authorized service dealer.   Here's the sequence of events:
Monday – call Sub-zero to get authorized dealer numbers
Monday – schedule appointment for Tuesday service
Tuesday – service repair man says Condenser Fan Motor and Evaporator Coils need to be replaced and he will place order the next day (why they waste a whole day is beyond me).
Wednesday – service company does not return phone calls to see if parts were ordered
Thursday AM – service company has not returned 4 phone calls
Thursday PM – service company calls that repair will cost $800+
Thursday PM – customer leaves message for service company saying "please expedite parts, yes go ahead with repair"
Friday AM – no return call from service company – customer decides to call Sub-zero directly
Friday AM – Sub-zero apologizes and tells customer they will not charge the $800 and will check with service company
Friday PM – service company calls to say parts are on back order and will take 8-10 days to arrive
Friday PM – customer calls Sub-zero and Sub-zero agrees to overnight parts to service company, they will receive by Monday and will do repair Tuesday
Friday PM -service company confirms that they will receive part on Monday and have scheduled repair for Tuesday
Monday PM – service company calls and says that if they don't receive part, they will call to reschedule service.
Tuesday AM – customer calls service company and leaves message
Tuesday AM – customer calls service company again and they inform the customer that the part was never received (they failed to call the customer to inform him)
Tue day AM – customer calls Sub-zero and Sub-zero verifies that service company did receive part on Monday and calls service company for them to schedule service same day
Tuesday PM – service company calls to say they just received the part (I guess FedEx tracking lied about delivery) and service would be scheduled Wednesday.
So here we are over a week later and the refrigerator is still not working.  All this aggravation for someone that has a vacation condo in Miami and is here visiting for a couple of weeks.  I am beyond embarrassed and will not recommend Sub-zero again.  This is what Sub-Zero uses in their marketing brochures:
"At Sub-Zero we're committed to having the best warranty and service in the business. "
If that's considered the best service, I would hate to know what the worst service is.  In this age of technology it is inconceivable that it would take so long to repair a refrigerator from a maker that is prestigious in the public's eye.