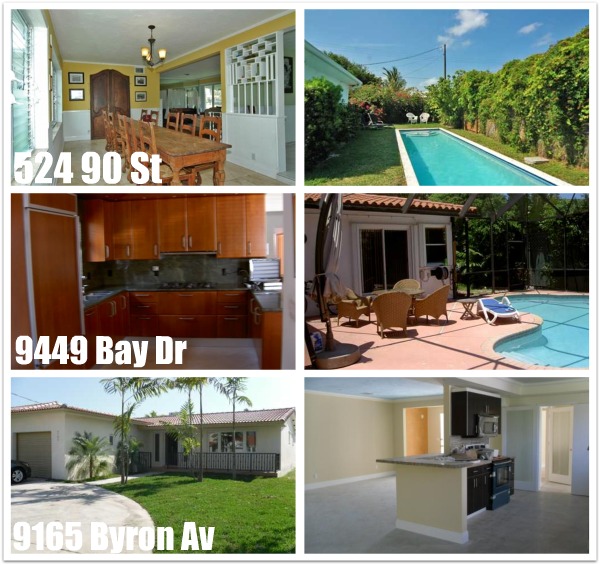 Surfside Homes Real Estate Market Report for 2010

We give you Surfside stats every month and it's time to pull them all together and summarize the year for you.  Good news is that although the number of sales was not high in 2010, the market is starting to see the light at the end of the tunnel.  There is less distressed sales inventory (short sales and foreclosures) and we are starting to even see a slight increase in price per square foot – but when I say slight….I mean just that.
There were 39 Surfside homes sold in 2010 on dry lots (non-waterfront), 36% of those were distressed (compared to almost 45% on the last half of 2009).  The average price per square foot in 2009 was $211 and that went down to $199 in 2010.  I decided to average the last 6 months of 2010 and was happy to see that there is an increasing trend and price per square foot had already increased to 201 (nothing to start jumping up and down for, but change nevertheless).
15 out of the 39 sales were above $200/sq.ft. and if you look at those properties, they were updated, staged and had some sort of curb appeal.  It seems like common sense to tell you that those homes that don't show well are regarded by buyers as "fixer uppers", but I have to keep repeating myself because you'd be surprised how many people don't see the value in having their property in tip-top showing condition.
With that said, there were 3 Surfside waterfront homes sold in 2010 (all 3 distressed!):
1355 Biscaya Drive – a 3 bedroom / 3 bathroom foreclosure listed for $720,000, and selling for $720,000
10101 E Broadview Drive – a 3 bedroom / 3 bathroom short sale listed for $850,000 and selling for $800,000 (this property had over $40,000 in liens and was an unfinished construction project).
9188 Bay Dr – a 3 bedroom /3 bathroom short sale listed at $850,000 and selling for $800,000
There was a point in the surfside market where most of the inventory was distressed so the few remodeled homes that came on the market were sold in just days.  Glad to tell you that the inventory is improving, it seems that time paid off for those who waited for the market to improve a little.
There are currently 58 homes for sale in Surfside and only 20% of those are distressed.  It's the small trend changes that make a difference in a recuperating market, I'm sure the change will continue to be positive.
The 4 highest Surfside homes sold in 2010 on dry lots were the following:
524 90 St – 2,200 sq.ft. 4 bedroom / 3 bathroom listed at $590,000 and selling at $570,000
9449 Bay Dr – 2,203 sq.ft. 3 bedroom / 2 bathroom listed at $589,000 and selling at $550,000
9452 Carlyle Ave – 1,986 sq.ft. 3 bedroom / 2 bathroom listed at $579,000 and selling at $550,000 (NO PHOTOS)
9165 Byron Ave – 2,064 sq.ft. 3 bedroom / 3 bathroom listed at $480,000 and selling at $460,000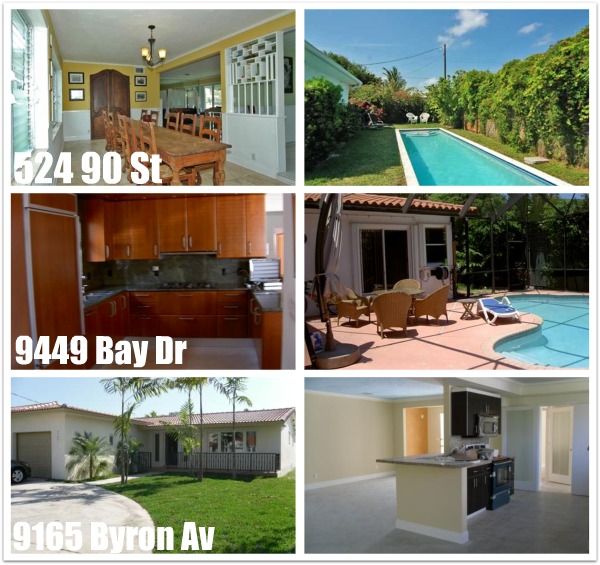 **Data obtained from SEF MLS**