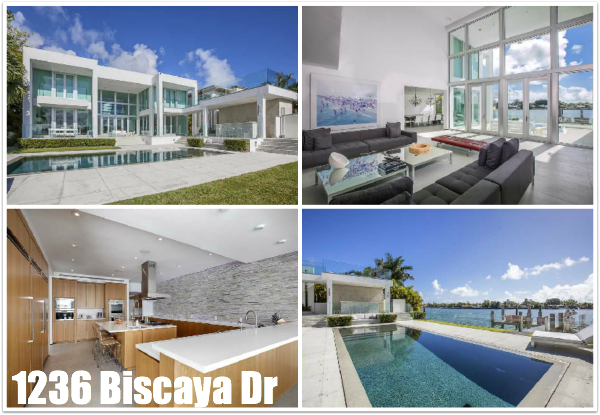 Surfside Real Estate Market Report for January 2014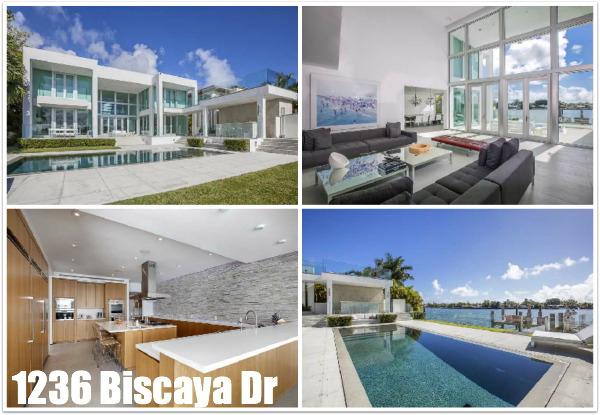 **Surfside Home For Sale – see below for property sale information**
There are currently  33  Surfside homes for sale:
Highest priced listing: $6,750,000 for a waterfront estate at 1236 Biscaya Dr. (pictured above)
Lowest priced listing: $474,000 for a 3 bedroom / 2 bathroom home at 8753 Abbott Av.(originally priced at $549,000 – reduced to $539,000 on 9/27/13, reduced again to $498,000 on 12/06/13 and now to $474,000 on 2/3/14)
Pending Sales: 6
Closed sales in January: 4
The 4 Surfside homes sold in January were the following:
8919 Dickens Av – listed for $679,900 and selling for $527,000
9172 Abbott Av – listed for $650,000 and selling for $605,000
9133 Abbott Av – listed for $595,000 and selling for $580,000
9065 Carlyle Av – listed for $520,000 and selling for $500,000
The average sold price per square foot in Surfside in the month of January was an amazing $307, compared to 2013's average of $270 which we reported in the Surfside Homes Market Report for 2013.  To think that the lowest priced home in Surfside right now is above $400,000 is clear evidence that Surfside is one of the best appreciating markets in South Florida.
Compare these numbers to Miami Shores Homes averaging $205/sq.ft. and with the lowest priced listing at $259,000.
To sell or buy your Surfside home, please contact us at Surfside@miamism.com
Featured Surfside Home For Sale
**1236 Biscaya Dr (pictured above) – Unbelievable Contemporary home, built in 2009 with no expense spared.  This is what we call a Miami Home, with wide bay views and perfect workmanship and finishes including exposed concrete, Italian limestone, white oak flooring and more.  This is the type of property that gives me goosebumps.  22 foot ceilings, 500 sq.ft. open kitchen, indoor and outdoor bars, gym, gas generator, 2-car garage and not to forget the 75′ of water frontage.
Listing price $6,750,000