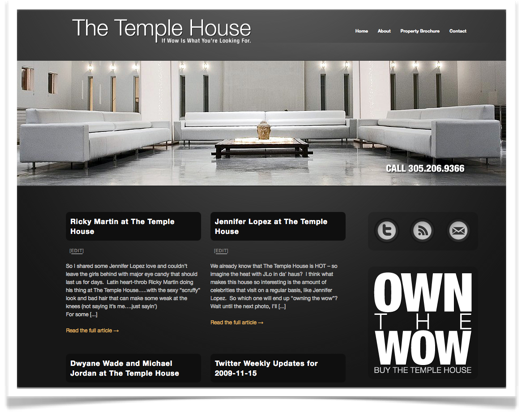 The Temple House – Miami Beach Luxury Home
I've written about The Temple House before and have given you all the relevant real estate information you need about the house.  From the typical description:
The Temple House is South Beach's largest private residence.  Steps to the beach, Lincoln Road and Lummus Park.  Over 16,000 SQ FT as per previous tax records.  This former synagogue was transformed into an ultra contemporary residential compound over a two year period.  Living quarters abound on both levels, 6,000+ SQ FT grand LOFT with approx. 30 foot high ceilings, 2.500+ SQ FT outdoor terrace, two car garage + parking for 3 additional vehicles.  Newly finished rooftop swimming pool!
to my own take on the house:
The Temple House in South Beach is one of those "wow" houses you don't see every day.  The largest single family home in South Beach with over 16,000 square feet of living space.  This house is amazing all on its own but when you hear its history, then you realize it is so much more than a big house.  Originally designed in 1933 by none other than famed architect L. Murray Dixon, converted into a temple in the 40's, expanded in the 60's by renowned architect Lester Avery and then converted back into a home in 2003 by the current owner, Dan Davidson.  This home defines South Beach Living with no expense spared – 30 foot ceilings in the 6,600 square foot great room, theater room, 1,200 square foot kitchen, state of the art lighting and audio system, new terrace pool with iridescent mosaics and waterfalls…..imposing and majestic.
But as Bea Garcia puts it in her housingwatch.com article for AOL real estate, Temple To High-End Zen For Sale in Miami,
For a house with a self-professed "wow" factor-its website address is www.ownthewow.com-it seems that no amount of promotion is too much.

The Temple House, in the heart of Miami Beach, has a Facebook fan page, a Twitter account, its own blog with postings of all the celebs-Jennifer Lopez, Ricky Martin, BowWow and Playboy model Vicky Vodar, to name a few- who have crossed its threshold, and a stream of photos of its Flickr page.
So check out OwnTheWow.com  to see the latest documented celeb visit to The Temple House: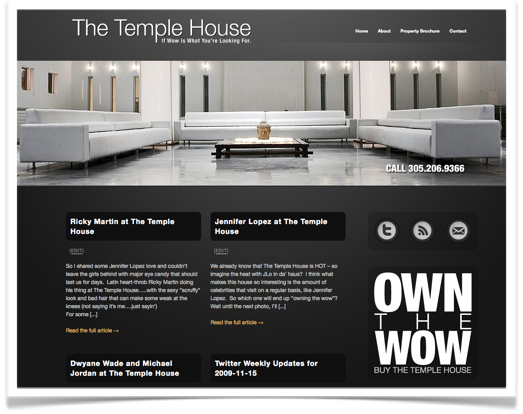 The Temple House is not just a property for sale – it's a house with a story, a story that cannot be told in just a few words.  This blog will narrate an uber rich story, it will serve as a chronicle of The Temple House's past present and future.
The Temple House has housed top celebrities in all kinds of different capacities, it has been published and re-published, has served as backdrop in popular music videos, movie scenes, megastar parties, weddings, charitable events…..and so much more
The Temple House
"if WOW is what you're looking for"