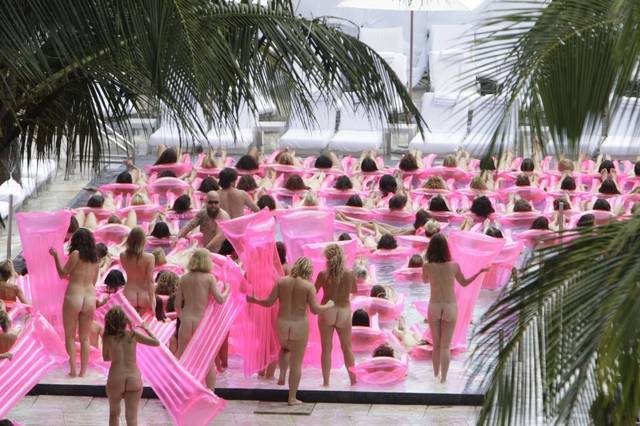 Throwback Thursday: When Spencer Tunick Turned Miami Beach into a Live Canvas of 'Naked Art'
A throwback to the time when the audacious Spencer Tunick added a rather 'au naturel' hue to The Sagamore Hotel, South Beach. Who'd have thought Miami Beach Real Estate would get so exposed! Call it risqué, eccentric, or just plain crazy, you couldn't ignore the naked creativity on display.
Tunick, renowned for photographing masses of nude bodies worldwide, ensured this day was a spectacle. The show commenced with 15 balconies of The Sagamore packed with nothing but bare skin. Talk about Miami Beach Luxury Condos getting a taste of the unconventional!
Next, the Sagamore's pool was invaded by 140 hot pink rafts each sporting a naked woman, later swapped out for 140 naked men on 140 green rafts. Miami Beach Luxury Condos had never seen such a vibrant (and bare) pool party!
Lydia Martin of the Miami Herald labeled a champagne-spraying shot as the most "South Beach Flavor". Tunick's plea to get the joyous, bare crowd back into clothes after the pool plunge was a humorous spectacle itself.
In Miamism terms, this is an eccentric classic. In the art sphere, just another "Tunick Tuesday". Take a look at the rest of our Miami real estate blog for more (clothed) updates.
Photos courtesy of JOHN VANBEEKUM/MIAMI HERALD STAFF.
**Article rewritten from an old Miamism.com blog post, with the help of ChatGPT. Written, edited and composed by a real miamism human.