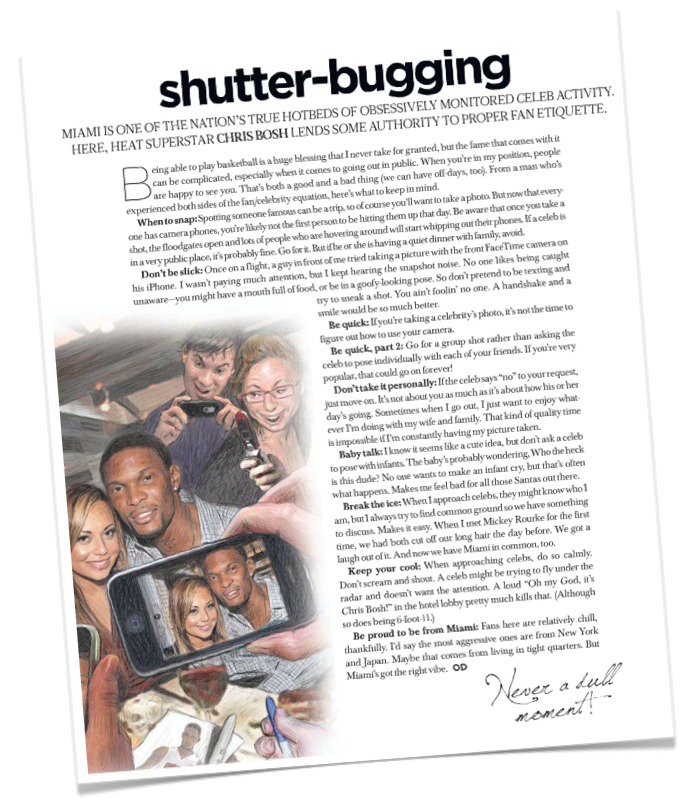 Tips for Celeb Spotting by Chris Bosh
I was so glad to see Chris Bosh giving us his perspective for the right way to approach a celebrity, on Ocean Drive Magazine sometime last year. I've been waiting for the digital version of the article, but it was never produced. Thank you Chris for sharing your insights with us fans and letting us know do's and don'ts. Here's the Ocean Drive Article (if anyone finds a link, please send it to me so I can add it for property credit.)
Shutter-Bugging
Miami is one of the nation's true hotbeds of obsessively monitored celeb activity. Here, heat superstar Chris Bosh lends some authority to proper fan etiquette. Being able to play basketball is a huge blessing that I never take for granted, but the fame that comes with it can be complicated, especially when it comes to going out in public. When you're in my position, people are happy to see you. That's both good and a bad thing (we can have off-days, too). From a man who's experienced both sides of the fan/celebrity equation, here's what to keep in mind.
When to snap: Spotting someone famous can be a trip, so of course you'll want to take a photo. But now that everyone has camera phones, you're likely not the first person to be hitting them up that day. Be aware that once you take a shot, the floodgates open and lots of people who are hovering around will start whipping out their phones. If a celeb is in a very public place, it's probably fine. Go for it. But if he or she is having a quiet dinner with family, avoid.
Don't be slick: Once on a flight, a guy in front of me tried taking a picture with the front Face Time camera on his iPhone. I wasn't paying much attention, but I kept hearing the snapshot noise. No one likes being caught unaware – you might have a mouth full of food, or be in a goofy-looking pose. So don't pretend to be texting and try to sneak a shot. You ain't foolin' no one. A handshake and a smile would be so much better.
Be quick: If you're taking a celebrity's photo, it's not the time to figure out how to use your camera.
Be quick, part 2: Go for a group shot rather than asking the celeb to pose individually with each of your friends. If you're very popular, that coul dgo on forever!
Don't take it personally: If the celeb says "no" to your request, just move on. It's not about you as much as it's about how his or her day's going. Sometimes when I go out, I just want to enjoy whatever I'm doing with my wife and family. That kind of quality time is impossible if I'm constantly having my picture taken.
Baby talk: I know it seems like a cute idea, but don't ask a celeb to pose with infants. The baby's probably wondering, Who the heck is this dude? No one wants to make an infant cry, but that's often what happens. Makes me feel bad for all those Santas out there.
Break the ice: When I approach celebs, they might know who I am, but I always try to find common ground so we have something to discuss. Makes it easy. When I met Mickey Rourke for the first time, we had both cut off our long hair the day before. We got a laugh out of it. And now we have Miami in common, too.
Keep your cool: When approaching celebs, do so calmly. Don't scream and shout. A celeb might be trying to fly under the radar and doesn't want the attention. A loud "Oh my God, it's Chris Bosh!" in the hotel lobby pretty much kills that. (Although so does being 6-goot-11.)
Be proud to be from Miami: Fans here are relatively chill, thankfully. I'd say the most aggressive ones are from New York and Japan. Maybe that comes from living in tight quarters. But Miami's got the right vibe. Never a dull moment!