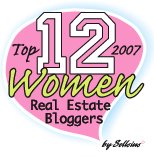 Top 12 Women Real Estate Bloggers 2007
If you have not visited Joe and Rudy's Sellsius site, you are missing out!  These guys are funny, they are cool and they are on top of anything that is new in the industry.
This morning, while opening my e-mail, I was shocked to find my name included in the list of Top 12 women Real Estate Bloggers!
Woooo Hooooo!!  I am flattered, I am also honored.  To thank the guys I wanted to include some great shots I took while their Blog Tour USA was in Miami this summer (actually, South Beach).  I even took this Miamism while walking to the beach with them.
Thanks Joe and Rudy….as I said before, you guys ROCK!