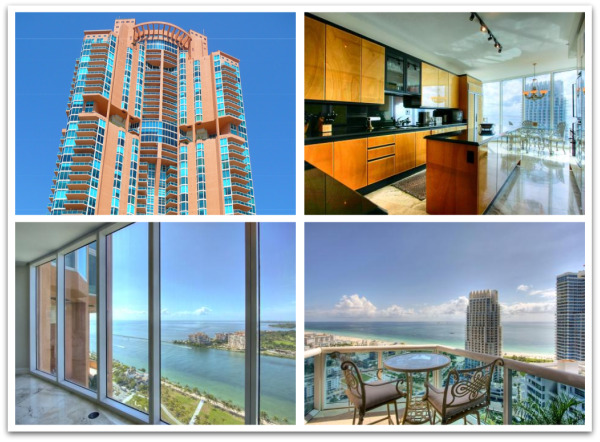 Top 3 Most Expensive Miami Beach Condo Sales – March 2010
There were 195 Miami Beach Condos sold in the month of March 2010.  The least expensive Miami Beach Condo sold in March was a bank owned studio at The Alden Hotel located at 2925 Indian Creek Drive selling for $47,000 – compared to the highest listing selling for $2.9 Million (discussed below).  Continuum continues to do well, although we are seeing quite a disparity between listing and selling prices.  Again you will see that 2 of the 3 highest sales were in the sought out area South of Fifth in Miami Beach.
March's Most Expensive Miami Beach Condo Sale
Portofino Tower:  300 S Pointe Dr #3101 – Miami Beach, FL 33139
Listed for $3,500,000 and sold for $2,900,000 on 03/12/2010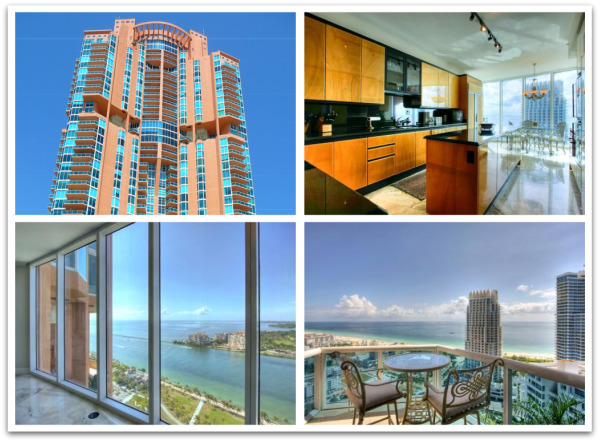 Portofino happens to be one of my least favorite buildings from a facade aesthetic point of view (I'm hoping the flamingo peach color will go away one day soon) – other than that, the views from Portofino are UNbelievable!  This particular residence was a "tower suite" and has quite the listing history.  Closing for $2.7 Million in May of 2000 and then listed, relisted, cancelled, removed, listed again……you get the picture.  The highest listing price in the MLS history is $5.99 Million with several reductions since November of 2006 as well as several listing agents.  To put things in good perspective, it still sold for more than they bought it in 2000.  The MLS description reads:
"Play pen in the sky".  Portofino two level tower suite with 5,450 SQ FT of luxury living.  Spectacular views!  Water everywhere from this limited edition "one of three existing tower suites".  4 BD + Maid Quarters / 6.5 BA, huge state-of-the-art kitchen, formal dining, media/party room w/wet bar.  Floor-to-ceiling glass.  Priced to sell.
I love the "priced to sell" statement – I'm dying to write "priced to keep" in one of our listings one day to see if anyone notices.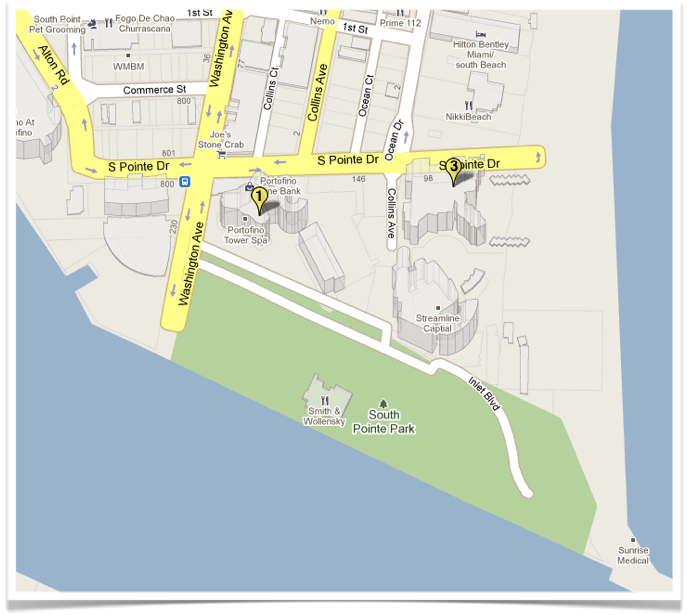 Features:
Built in 1996
5,450 square feet of living space
4 bedrooms / 6 bathrooms / 1 half bath
corner unit – split bedroom plan
2 parking spaces
Marble floors
2 Master bedrooms
Impact Glass windows and doors
monthly maintenance = $3,856
March's Second Most Expensive Miami Beach Condo Sale
Setai Resort & Residences:  101 20 St #1701 – Miami Beach, FL 33139
Listed for $4,200,000 and sold for $2,500,000 on 3/3/2010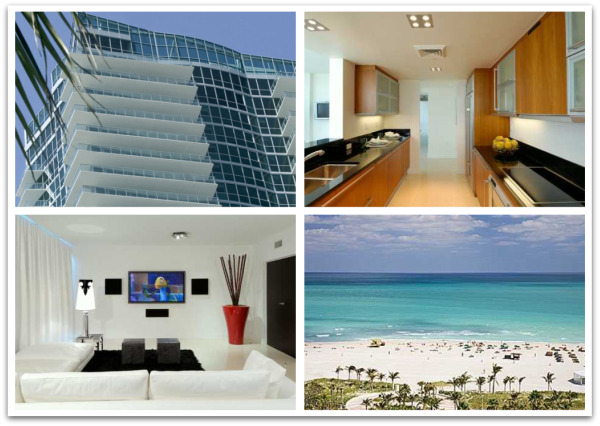 Yes, The Setai is, without question, one of Miami Beach's spectacular places to live – amenities, spa, location, views…doesn't get any better than this.  This particular listing had no photographs at all in the MLS (had to grab them from an older listing of the same unit).  The history is even more impressive than March's highest sale.  Originally listed for $7.75 Million in January 2006 with several reductions and also offered as a rental for $30,000 per month.  You better believe that was an OUCH!  Finally sold as an REO (bank owned property) <<< no wonder it had no photos!  They did, however, include a description:
Rare to find, spacious residence at The Setai.  Double corner unit overlooking west, south and north.  Two living rooms, media room, 3 bedrooms, 4.5 bathrooms, formal dining room and much more.  Enjoy the 5-star luxury services The Setai has to offer: 3 heated, lap pools, spa/gym, wait service by the pools and beach, pool bar and restaurant, formal restaurant in hotel, concierge, valet, front desk, pool towel service.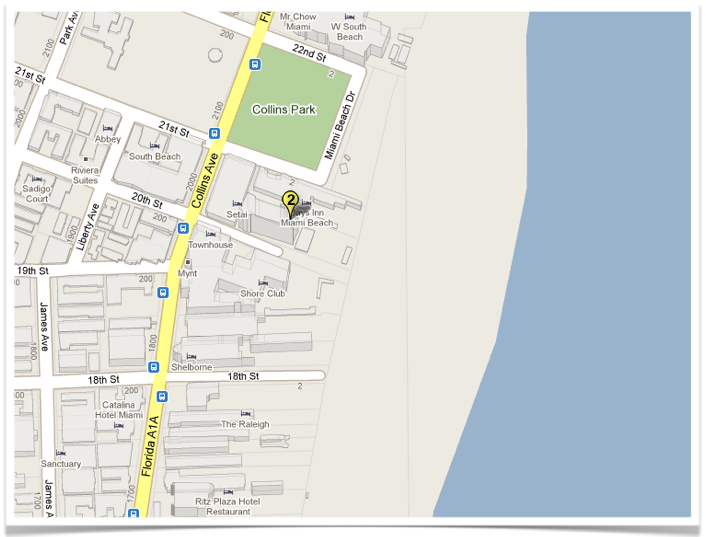 Features:
Built in 2004
3,691 square feet of living space
3 bedrooms / 4 bathrooms / 1 half bath
2 parking spaces
beach front building
Marble floors
Monthly Maintenance = $7,761
March's Third Most Expensive Miami Beach Condo Sale
Continuum on South Beach – 50 S Pointe Dr #2105 – Miami Beach, FL 33139
Listed for $2,500,000 and sold for $2,100,000 on 3/26/2010

No interior photos at all for this listing – bummer! But after investigating further, the unit was tenant occupied and possibly not in the best "photo shooting" condition.  At least you get some photos of the facade and complex.  Selling history is pretty straight forward on this one – Listed in January for $2.5 Million and selling 2 months later.  The Continuum keeps appearing in the top 3 sales every month, never disappoints.  MLS description reads:
Enjoy 12 Acres of Oceanfront Living at CONTINUUM II!  Spacious w/large balcony and magnificent views! Italian kitchen with Stainless Steel Meile appliances, Subzero Refrigerator, Granite countertops and Marble floors.  Luxury amenities include 24 hr security and valet parking, full-time Concierge Service, 2 large Lagoon pools with pool and beach-side services from Patio Restaurant.  Three Pro-Clay tennis courts, 23,000sf Sporting Club and Spa with Infinity lap pool!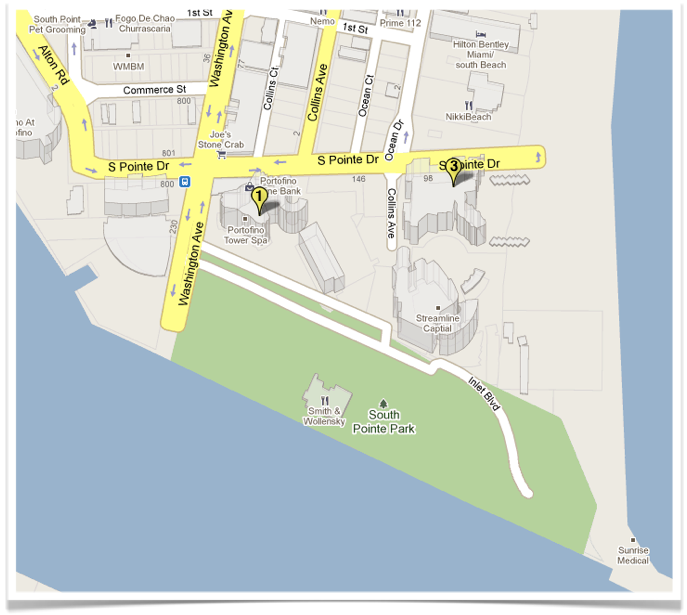 Features:
Built in 2008
1.922 square feet of living space
2 bedroom / 2 bathroom / 1 half bath
1 parking space
marble floors
beach front building
monthly maintenance = $2,047
**all information obtained from the SouthEast Florida Multiple Listing Service**