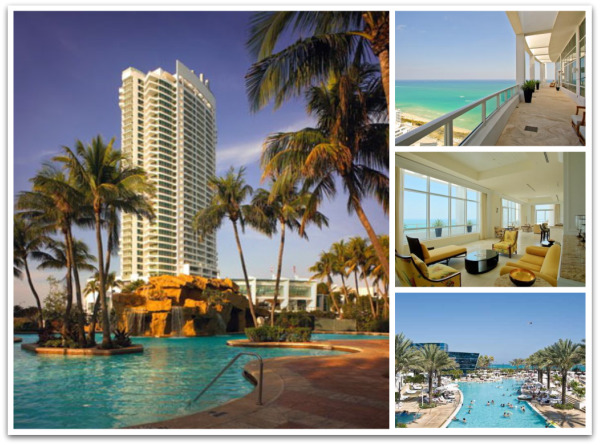 Top 3 Most Expensive Miami Beach Condo Sales – May 2010
There were 158 Miami Beach condos sold in the month of May 2010.  They ranged in price from $9 million to $36,000 for a studio foreclosure at Fashion Condo in South Beach.  Thirteen of the 158 sold over $1 million and only 2 of the 13 were over $5 million – which shows once again that the high end Luxury market is not moving as it used to.  Apogee in South Beach keeps showing great trends and gets the number 2 and 3 highest sales this month.  The regular suspects have sales in May including Continuum South Beach, Canyon Ranch, The Bath Club and Icon South Beach.
May's Most Expensive Miami Beach Condo Sale
Fontainebleau II Condos:  4441 Collins Ave #PH-NO – Miami Beach, FL 33140
Listed for $9,800,000 and sold for $9,000,000 on 05/14/2010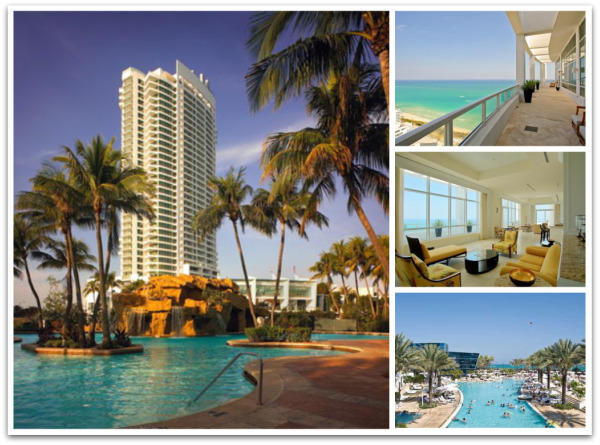 The Fontainebleau needs no introduction with the most incredible amenities of Miami Beach, including restaurants, pools, nightclubs, Lapis Spa, Cabanas, beach side service ….the fun goes on and on.  It's considered  luxury resort living at its best and many choose Fontainebleau as their second home.  This particular breath-taking penthouse was originally listed for $16,000,000 in January of 2009, reduced to $13.5 million in February of 09 and again to $9.8 million in May of 2010…which was the clincher for the sale.  Selling at $2,000 per square foot! The MLS description says it all:
Fabulous one-of-a-kind 4,500 sq. ft., 5 bed/,5 full plus 2 half baths. This spectacular Fontainebleau penthouse spans the entire half of the Tresor building from city to ocean. Breathtaking view, over 2,500 sq. ft. of terraces with private jacuzzi. Open floor plan with 15'ceilings. 24 hour full hotel services available .11 restaurants and nightclubs, 40,000 sq. ft. spa and private poolside cabanas. Penthouse is fully furnished and equipped with high def flat -screen TV's, and ultra luxurious amenities.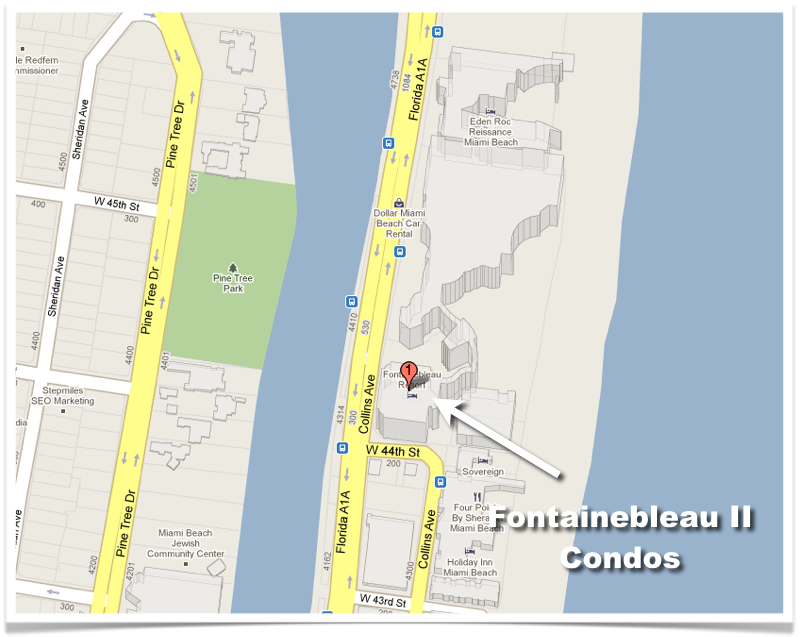 Features:
4,500 square feet of living space
2,500 square feet of terraces/balconies
5 bedrooms / 5 bathrooms
Built in 2005
2 parking spaces
Direct Ocean Views
Monthly Maintenance Fee = $6,000
May's Second Most Expensive Miami Beach Condo Sale
Apogee South Beach:  800 S Pointe Drive, #904 – Miami Beach, FL 33139
Listed for $6,850,000 and sold for $6,550,000 on 5/21/2010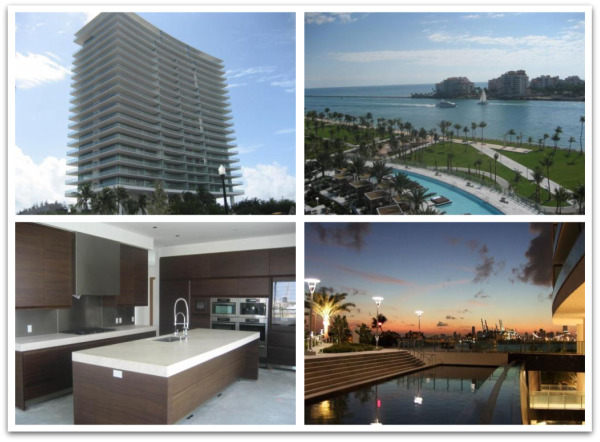 I can talk about Apogee all day long – ultra luxury, austere architecture, never pretentious, and VIEWS!! (although it does  not have a marina or a beach…but it's obvious that many don't care, because sales keep defeating the odds).   This particular residence was listed for $6.85 million in January of 2009 and shows it went pending in May of 09 and closed exactly one year later.  Could have been an option, delayed closing or just a mistake in the MLS.  Either way, closes at $1,577 per square foot which is above average closed sales this year at Apogee.  MLS reads:
APOGEE! Most exclusive bldg. in South Beach only 67 exclusive homes in the sky. Best line in the bldg. watch the Miami Skyline as sit comes to life at night, Fisher Island, City of Miami Beach plus watch the cruise ships sail while relaxing on your over-sized terrace. 4 Bedrooms, 3 baths and media room.Unit features gas stove, huge center island, summer kitchen on balcony, midnight kitchen in master, steam shower and jacuzzi tub plus upgraded lighting. Private Air conditioned  over-sized garage.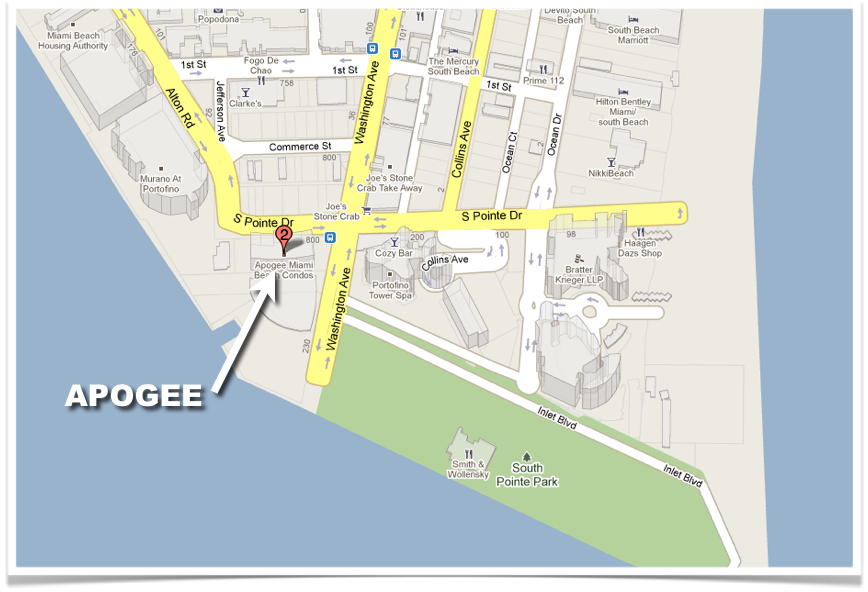 Features:
4,154 square feet of living space
4 bedrooms / 4.5 bathrooms
built in 2008
2 parking spaces / private air conditioned garage
Bayfront condo
Summer Kitchen
Monthly maintenance = $5,046
May's Third Most Expensive Miami Beach Condo Sale
Apogee South Beach:  800 S Pointe Drive, #503 – Miami Beach, FL 33139
Listed for $3,395,000 and sold for $3,000,000 on 5/21/2010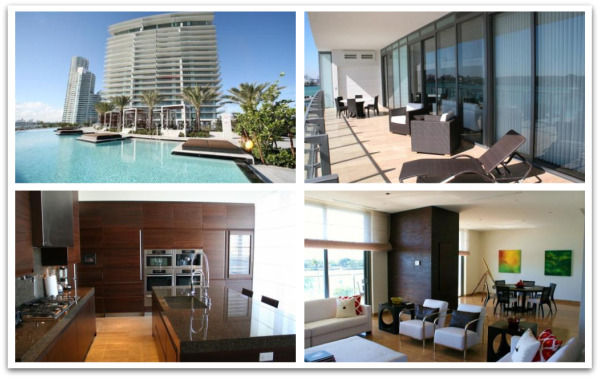 Another Apogee Sale, but this one ready to move in rather than designer ready.  Listed originally for $3.85 million in January 2009, reduced to $3.69 million on February of 09 and again in September of 09 to $3.395 million.  This residence is the lowest sale per square foot at Apogee this year ($967/sq.ft.) – with average price being $1,292 per sq. ft.  The MLS description reads:
The APOGEE, a premium residence suitable for the most discriminating individuals is situated in the "SOFI" neighborhood on South Beach. With only 67 residences, this waterfront property offers resort like amenities, flow through floor plans, 11ft balconies, the highest end appliances, Biometric unit access, interactive AMX "Smart Lifestyle" technology and over-sized private air-conditioned garages. This unit has received a full build out and is turnkey ready to move in. Furniture is negotiable.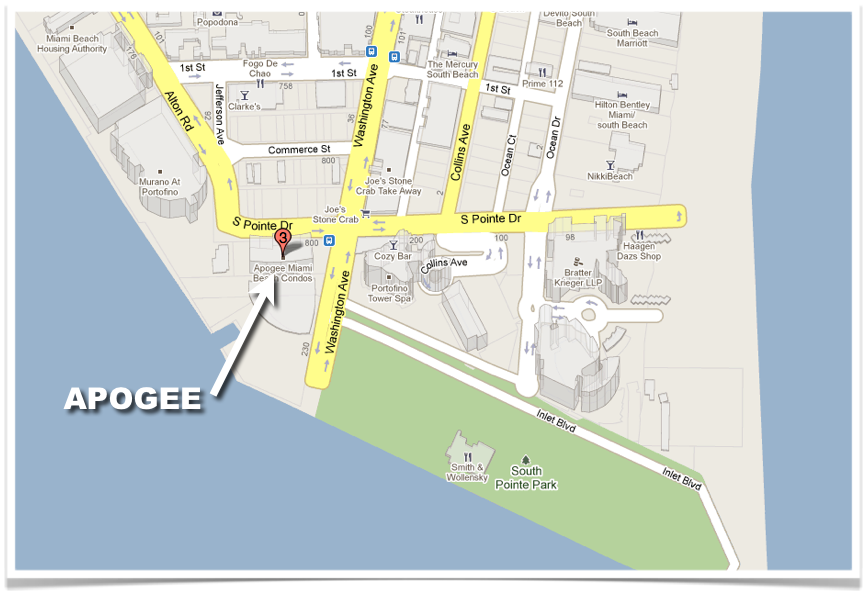 Features:
3,103 square feet
3 bedrooms / 3 bathrooms
built in 2008
2 parking spaces / private air conditioned garage
Bayfront condo
Summer Kitchen
Monthly maintenance = $3,810
**all information obtained from the SouthEast Florida Multiple Listing Service**