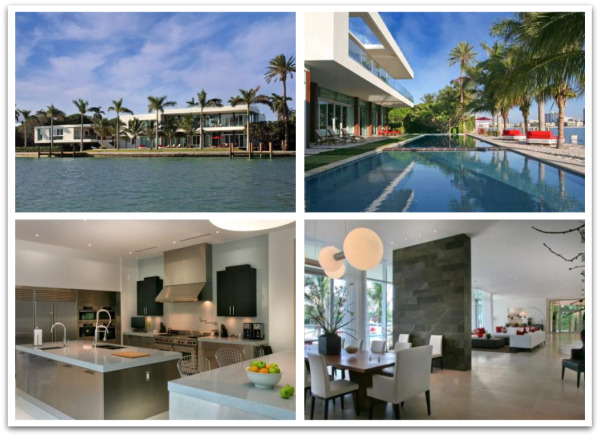 Top 3 Most Expensive Miami Beach Home Sales – June 2010
The month of June was HOT when it comes to Miami Beach homes sold.  We're talking the higher end of the Miami Beach Luxury home market, the one I've been telling you has been at a standstill .  I hope this doesn't mean our "quota" has been met….I'm hoping the Luxury market is picking up.  There were 20 sales ranging from $250,000 for a 3 bedroom short sale at 1234 13th Street in South Beach to $16 million for an amazing Todd Michael Glaser masterpiece.  These Miami Beach home sales represent the highest sales seen in quite some time, so let's take it all in.
June's Most Expensive Miami Beach Home Sale
88 La Gorce Cr – Miami Beach, FL 33141
Listed for $19,500,000 and sold for $16,000,000 on June 11th, 2010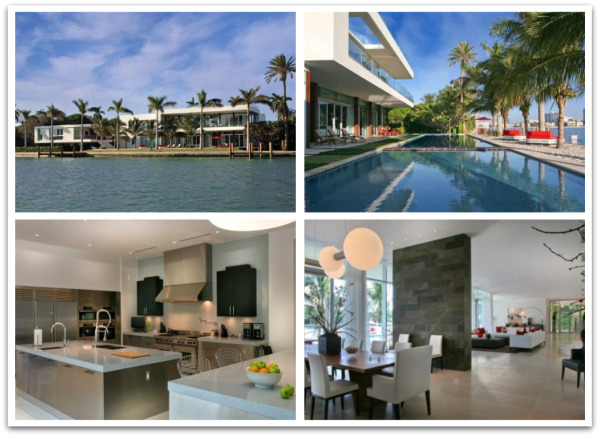 I had written about this impressive Miami Beach Luxury Estate back in December of 2009, where I said:
The home is impressive to say the least – contemporary, simple, austere and phenomenal.  With over 20,000 square feet of living space, sitting on a 48,000 square foot lot, guest cabana, elevator, 5-car garage, amazing landscaping….what else could you want?  My only concern of course is that we have not seen any waterfront sales in La Gorce in 2009….the whole mega luxury home real estate market in Miami Beach is at a standstill….waiting waiting waiting.  The house has been active for sale since January of 2008 starting at $25,000,000 ($5,500,000 reduction is not bad at all).  It's also currently for rent at $100,000 per month and known to house a few celebs on a short-term basis.
And Todd Michael Glaser himself, describes as:
The property, called OKTO, features a brand-new 20,000-square-foot house, which my team and I built from the ground up in just 10 months. It is one project that I am particularly proud of. The flowing floor plan separates "back of house" function spaces (such as dual laundry rooms, staff quarters, ample storage spaces, and a five-car garage with berthing large enough for limousines), from the opulent living areas. The master bed and bath have floor-to-ceiling glass sliders that seem to disappear when opened, exposing the his-and-her soaking tubs to the direct Florida sunlight. The terrace overlooks the pool and manicured lawns, as well as the elevated guesthouse and cabana. With all of this, I am not surprised it wasn't on the market for very long.
(for those that don't know who Todd Michael Glaser is – he's a builder…but not just any builder, he builds Luxury Estates that have been featured in HGTV, and said to have "started" the Miami Design District)
Features:
17,183 square feet of living space
built in 2008
10 bedrooms / 12 bathrooms / 3 half-baths
5-car garage
48,024 sq.ft. lot with 260′ of water frontage
2 docks
lap pool and spa
rooftop terrace
staff house
elevator
La Gorce Island location
June's Second Most Expensive Miami Beach Home Sale
55 Palm Ave, Miami Beach, FL  33139
Listed for $15,500,000 and sold for $11,950,000 on June 16th, 2010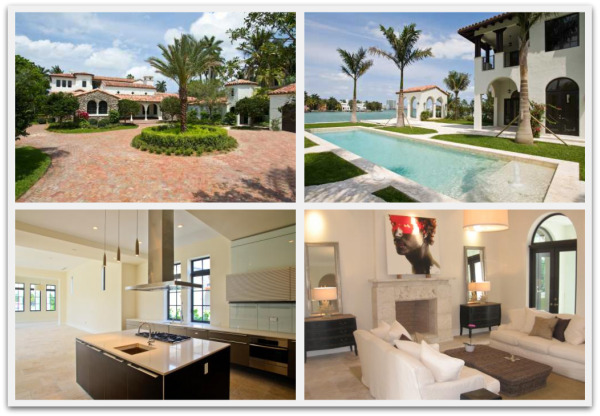 This was a Mediterranean Revival restoration also done by Todd Michael Glaser – damn Todd! you are on a roll!  The 1928 home Palm Island residence is best described in Todd's  own words:
This project was extremely interesting for me, as it involved a unique historical restoration of an original 1920s Spanish Colonial-style residence on Palm Island, providing city tax abatement for 10 years. Set on a 30,000-square-foot lot, the home features a three-car garage, service quarters, formal dining room, elevator, a grand waterfront master suite and sitting area, his-and-her baths and walk-in closets, and more. We incorporated a 10,000-square-foot modern addition, careful to blend the old and the new, and the possibilities are endless. There is room for a media room, library, office, gym, outdoor barbecue, separate guest rooms, a playroom, sitting areas, and more. The details are what really sets it apart, though: 12-foot cathedral beamed ceilings, quatrefoils windows, fireplaces, a romantic interior courtyard, oversize heated pool on beautifully landscaped grounds featuring flowering vines. It's the quintessential Miami Beach island property.
And MLS description reads:
Unique historical restoration of original 1920's Spanish Colonial Palm Island residence providing city tax abatement for 10 years plus a 10,000 SF modern addition.  12 foot Cathedral & coffered ceilings, Bulthaup kitchen, interior courtyard, amazing backyard w/ gazebo & pool cabana.  Gorgeous views of intercostals & MB skyline.  One of a kind master suite w/ private terr.  Enchanting guesthouse w/ plenty of rm & privacy and much more.
Features:
12,184 square feet of living space
8 bedrooms / 9 bathrooms / 2 half-baths
built in 1928 and restored in 2008
30,000 sq.ft. lot with 100′ of water frontage
3-car garage
service quarters
elevator
media room
library
12-foot cathedral beamed ceilings
interior courtyard
pool
Palm Island Location
June's Third Most Expensive Miami Beach Home Sale
40 La Gorce Cr, Miami Beach, FL 33141
Listed for $7,900,000 and sold for $7,400,000 on June 11th, 2010

There are not even photos of this home because it sold in 4 days!  The 1937 home of known attorney Dan Paul, author of Miami-Dade county charter, with an MLS description that leaves us wanting more:
This extraordinary waterfront property is located on the tip of prestigious La Gorce Island in Miami Beach. The most sought after wide bay, city and sunset views. Upon entering the sumptuous courtyard you will be enchanted by the beautiful architecture of this 8,200+SF Gem. Nothing short of a South Florida masterpiece, this residence has it all.
Features:
8,284 square feet of living space
6 bedrooms / 8 bathrooms / 1 half-baths
built in 1937
23,145 sq.ft. lot with 115′ of water frontage
2-car garage
dock
pool
La Gorce Island Location
>>>> BONUS SALE you absolutely have to know about<<<<<
4358 N. Bay Road – Miami Beach, FL 33140

Listed for $8,300,000 and sold for $7,400,000

This amazing piece of land was bought by none other that Alex Rodriguez after many rumors of offers on different properties around Miami.  And guess who's helping A-Rod build the house of his dreams?  Yes…you got it….Todd Michael Glaser!!!  (and all I hope is that he convinces him to go modern and not do another Spanish-Med wanna be with a million ballustrades – somehow….I have confidence that this time will be different!)
**all information obtained from the Southeast Florida Multiple Listing Service**