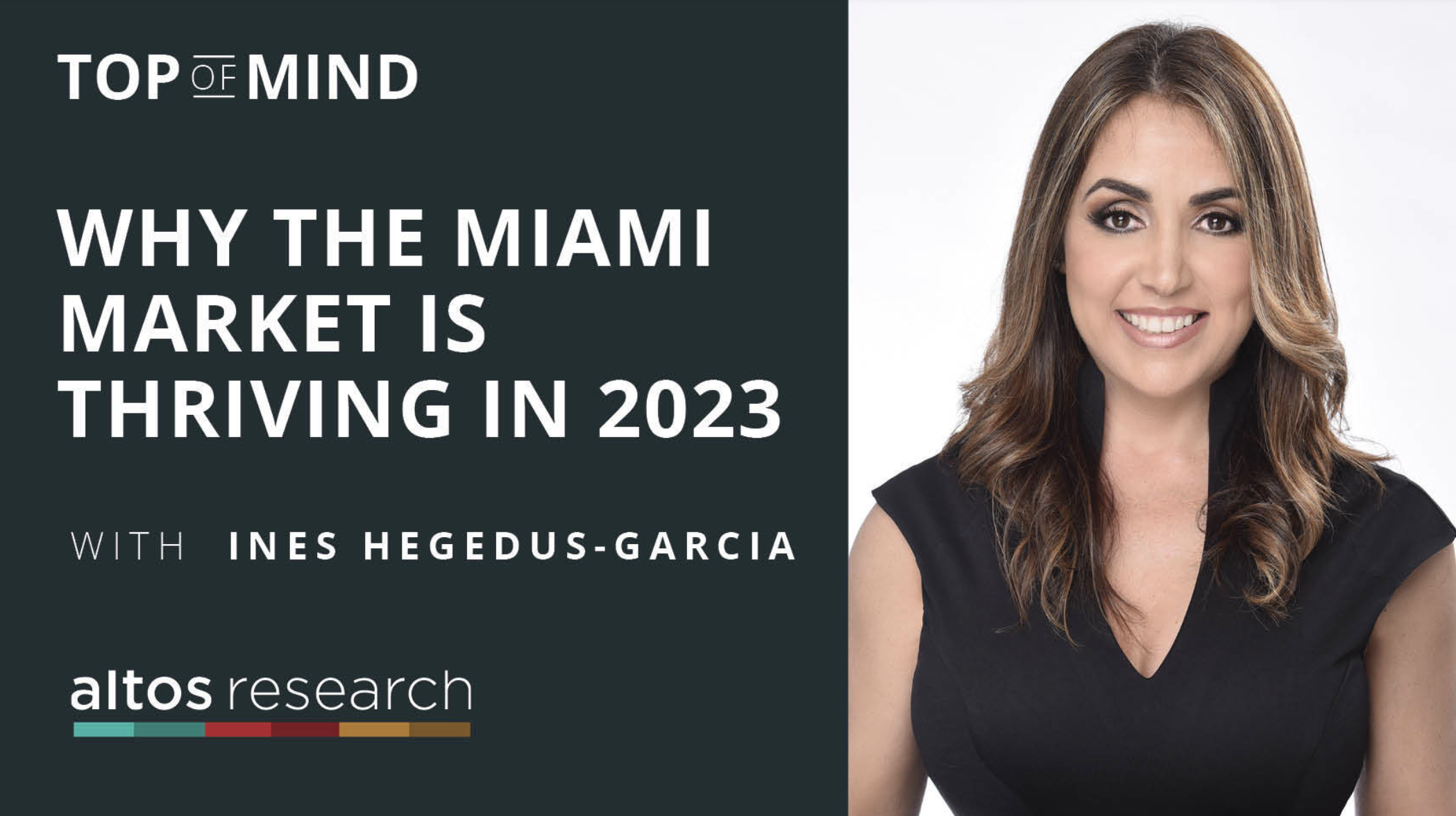 Top of Mind Podcast – Why The Miami Market is Thriving in 2023
What an honor to be invited to The Top of Mind Podcast by Mike Simonsen, the founder of Altos Research!!  Mike is a true data geek and founded Altos Research in 2006.  We have been friends for years and geek out on housing insights on a regular basis.
The episode is all about Miami and
In this episode of the Top of Mind podcast, Mike Simonsen sits down with Ines Hegedus-Garcia, the current Chair of the Miami Association of Realtors, to talk about the dynamics behind Miami's thriving real estate market. Ines shares her perspectives on why the Miami market has stayed strong through recent economic turmoil, looks at the opportunities and risks for the market, and discusses industry insights from her leadership roles in Miami's 60,000+ member real estate association. She also gives us her take on the region's distinctive architecture and what design and technology trends to watch.
Here's a glimpse of what you'll learn:
Why Miami real estate is still thriving, and why this year's market changes have been positive for buyers and sellers in South Florida
Insights into the international political and financial dynamics that drive Miami real estate
Opportunities and risk around the booming construction market, including some surprising new approaches to meeting rental demand
Which exciting architects in Miami to pay attention to, which buildings in Miami are her favorites, and why
Which technology and policy changes to note for Miami's climate change risks
Her perspectives on running one of the largest realtor associations in the country, with over 60,000 members
How she uses market reports on the popular Miamism blog to engage readers.
Resources mentioned in this episode:
About Altos Research
The Top of Mind Podcast is produced by Altos Research.
Each week, Altos tracks every home for sale in the country – all the pricing, and all the changes in pricing – and synthesizes those analytics to make them available before becoming visible through traditional channels.