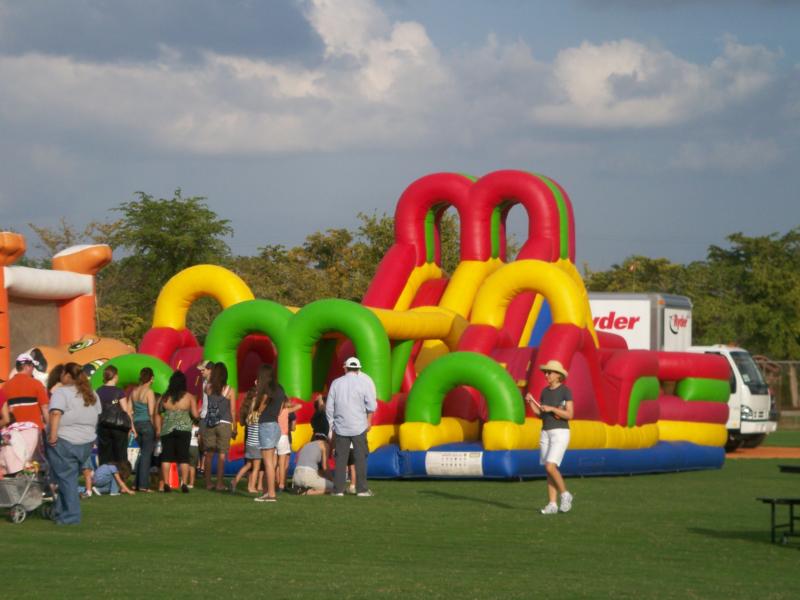 Unity Day in Miami Shores, Florida
The annual Unity Day Celebration took place yesterday, March 3, 2007 in the Miami Shores Recreation Fields. This year is was specially significant because it was the Village of
Miami Shores'
75th year celebration!
The event was sponsored by the Miami Shores Mayor's Community Task Force and included an incredible fireworks display at 8:00 PM.
Unity Day has activities for children of all ages, from bounce houses to slides to a rock climbing wall.  There's also plenty of food, live music and lots of community spirit.  Local organizations sponsor individual stands spread throughout the event, including The Heidi Hewes' Woman's Cancer Association, Miami Shores Presbyterian School, The Cushman School, and more.
Here are some photos of Unity Day.
It is so great to see the community get together in this wonderful event.  You walk around and see neighbors, teachers, the mayor, and even your pediatrician!   I will admit that I was exhausted from chasing our 2 year old around, but we certainly look forward to this event every year.
The left photo shows a display created by The Miami Shores Village showing 75 years of history.  On the right we can see Nuri Vallbona, a member of The Heidi Hewes Chapter of the Woman's Cancer Association and Laurie Benedek, one of the co-presidents of the chapter, handing out ice-water.
Unity Day takes place every year around the first week of March, so if you missed it this year, look forward for next year's…..we hope to see you there!
Please contact
RICK & INES
for any questions or to arrange a private tour of Miami Shores.