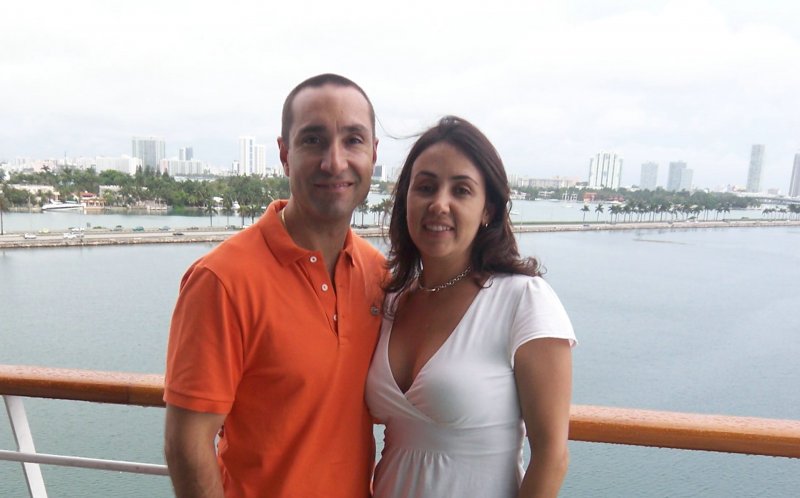 Vacations for Miamians….and others
Where do people from Miami go on vacations? This could be a loaded question, since we do go everywhere around the world, but when talking to my friend from Colorado, Mariana Wagner, the subject came up. Miami is known to be a great vacation spot so outsiders sometimes wonder where locals go. This past weekend, we decided to go on a quick 3-day cruise just to get away. It was long enough to recharge our batteries and come back like new. (Although sometimes it does feel like we need a vacation from our vacations).
This picture was taken from the ship's deck right before taking off. The day was a bit overcast, but you can still enjoy the view. We left Miami Friday afternoon, destination Nassau, Bahamas. By the time we woke up Saturday morning, we were already docked at Nassau. We spent the whole day there (the weather did not cooperate, but we still had a great time), and Sunday we cruised back slowly and had our "fun day at sea", arriving in Miami Monday morning…..the weekend flew by, but it felt like a great POWER NAP. Now to the brutal truth. I was very skeptic about the whole "short cruise concept" thinking it would be dirty, not well planned, with mediocre food and service …..but I was pleasantly surprised. Carnival's Fascination is not a new ship, but it's kept up pretty well. The place is clean, the food was great, the service was excellent and the entertainment not bad. There were activities for kids of all ages including video arcade, pools and the all favorite "24-hour pizza bar". For the adults the regular casino, disco, comedy and dance shows, spa treatments, exercise classes and watching incredible sunsets. I'm sure there's plenty I am not mentioning, but I am positive there's something for everyone.
If you are planning to do one of these, don't forget an umbrella (a Bahamian wanted to charge me $25 for an umbrella), and don't forget the spiffy outfit for The Captain's Formal Night (every cruise has one of these). Here's a photograph of Miami when we got back, the view from the top deck was spectacular! Did you think I would leave out Miami Real Estate from this article?
And this other shot is towards Downtown Miami right over The Port of Miami. It's great to get away, but coming back is even better. Talk about paradise.