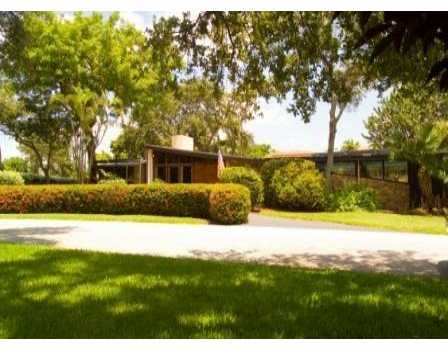 Wahl Snyder's own home recently sold in Miami Shores
I have to tell you about an incredible property that was recently SOLD in Miami Shores for $1,020,000.  Historians, Architects, Builders and everyone with a slight interest in design and history should be interested in this single property and I will tell you why.
This home was designed by Wahl Snyder, one of the most important architects to bring modern architecture to South Florida.
"Wahl Snyder is renowned as the architect who introduced the split-level house (1939) and townhouse designs (1964) to the Miami area. Snyder's architectural hallmark was a keen interest in bringing the outside world into a house's living space. Many of his designs feature open garden spaces within the building's frame, outdoor patios which seamlessly blend into interior space and large overhanging roofs which shade the building, allowing doors and windows to remain open. Even as air conditioning freed architects to isolate buildings completely from the elements, Snyder continued to make the outdoors an integral part of his designs, never forgetting climate's central importance to Florida and Caribbean life"
Not only was this home designed by Wahl Snyder, but it was his own personal residence in Miami Shores.
The home was built in 1947 and has approximately 3,200 square feet of living space, 1,200 square feet of covered exterior patio, 1,200 square feet of garage/workshop, 4 car garage, 4 bedrooms, 3 bathrooms and sits on an 18,750 square foot lot.  It has a formal living area with wood-burning fireplace, gourmet kitchen with commercial grade appliances, eat-in area overlooking garden and formal dining room.  It's the perfect example of Snyder blending interior and outdoor spaces where the Living and Bedroom areas surround the expansive exterior living room which features built-in seating areas, large pool and outdoor kitchen.
Although the house has had some changes through the years like the relocation of the kitchen and expansion of garage areas, the home still features original materials and features so popular with Snyder:  brick – concrete- clerestory lighting- sliding doors- built-in seating – and more.
Other known buildings designed by Wahl Snyder include the Neville McArthur Engineering Building at the University of Miami,  Miami Carol City High School, Coral Park Elementary School, townhouse developments for Lake Buena Vista and Hollywood to name a few.