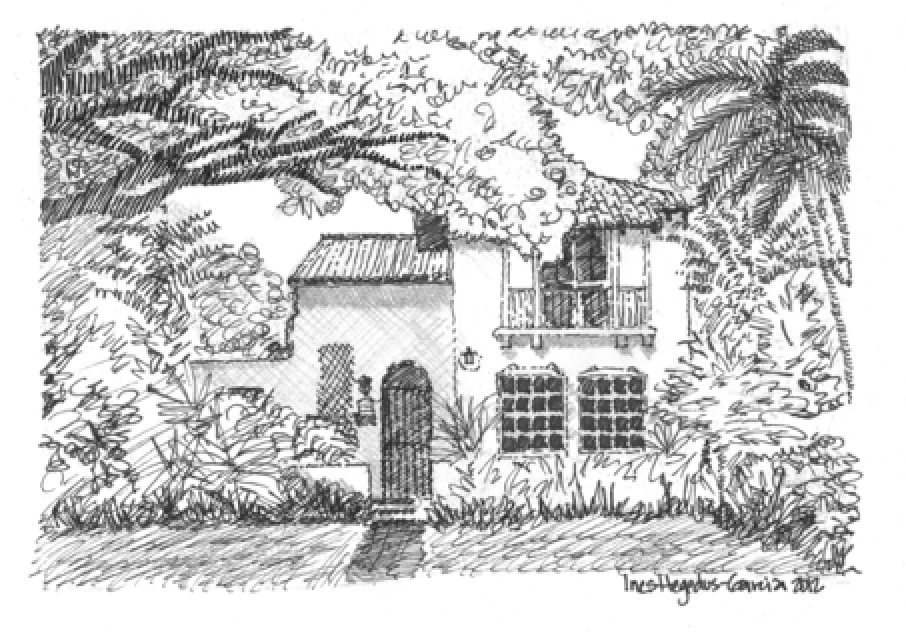 What is the right type of window for a Mediterranean house?
I often get asked what the right type of window is for a Mediterranean Revival home.  Remember that I am a REALTOR and specialize in historic homes because of my architecture background.  I hope this next explanation answers your window questions.
Windows are a key element in a building's architecture, and the incorrect use of a window can ruin a building's facade.  The first windows ever used were vertical in nature made to represent the human body, or better yet, were designed according to human proportions.  Mediterranean homes use windows that are vertical in proportion.
I have sketched a common window to show what proportions are about – notice the vertical nature of the window.  Different styles of architecture call for different window proportions.
The correct use for a Mediterranean Revival home is the casement window.  If we want to go into detail, the proportion of the window lights and the placement of the muntins is also very important.  But I would much rather see a plain casement without muntins, than the wrong type of window used like an awning or colonial.
We don't recommend that you ask window companies for their opinion either, most of them will not care what you use and which window type is appropriate; when in doubt, ask a professional.  There are plenty of architects that do consulting and would be glad to answer questions.  There are also historic boards throughout that may be able to help you. If you have the ability to find the original plans of your home, those will show in facade drawings, what windows were intended.  You may see some single-hung in smaller openings, but guarantee that most of them will be casement.
As for finishes, original windows were wood-casement and those are difficult to maintain in our climate and will not be hurricane resistant. Window companies can make windows that looks exactly like the originals, with modern materials that are weather resistant.
I drew the pen and ink drawing above for a Miami Shores historic home – more specifically, a Miami Shores Mediterranean Revival home.  I love doing these drawings for marketing purposes when we are selling historic homes in Miami. Keep sending those historic home questions!
**originally published 7/23/2016