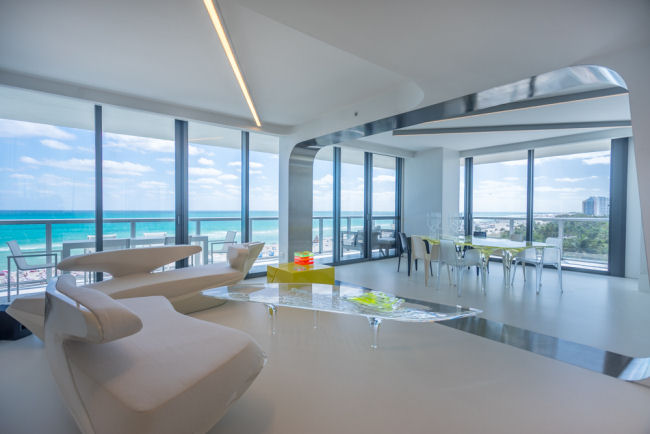 Zaha Hadid's own Miami Beach Condo for Sale
UPDATE: Zaha Hadid's own Miami Beach Condo at The W South Beach is currently under contract. According to the MLS, the last listing reduction was to $5.3 Million and appears as a pending sale, although TRD reports that unit sold for $5.75 Million.
To think you can be the lucky owner of famed architect's Zaha Hadid's personal condo in Miami Beach is unimaginable!! But it's real!! Zaha's own ocean-front condo at The W in South Beach is currently for sale for $10 Million.
The late architect's 3 bedroom / 4 bathroom condo has 2,229 SF and is on the South East side of the W with wrap around, direct ocean views, and is comprised of a 2 bedroom main apartment with totally separate 1-bedroom guest apartment. Just an FYI, this is not the highest priced listing at The W either – and totally remodeled by Zaha herself – that's a WOW!!
And the timing for the listing couldn't be better, Google paid homage to Zaha Hadid this week with one of their Google Doodles – check out Time's article:
The Doodle marks the date that Hadid became the first woman to win the Pritzker Architecture Prize on May 31, 2004. The world-renowned architect also became the first woman awarded the Royal Gold Medal by the Royal Institute of British Architects.

Hadid, who died of a heart attack last year at age 65, designed ground-breaking visionary buildings that spanned the globe. Her designs include the London Olympics Aquatics Center, Glasgow's Riverside Museum, the Jockey Club Innovation Tower in Hong Kong, Guangzhou Opera House, the Port Authority Building of Antwerp and Salerno Maritime Terminal.