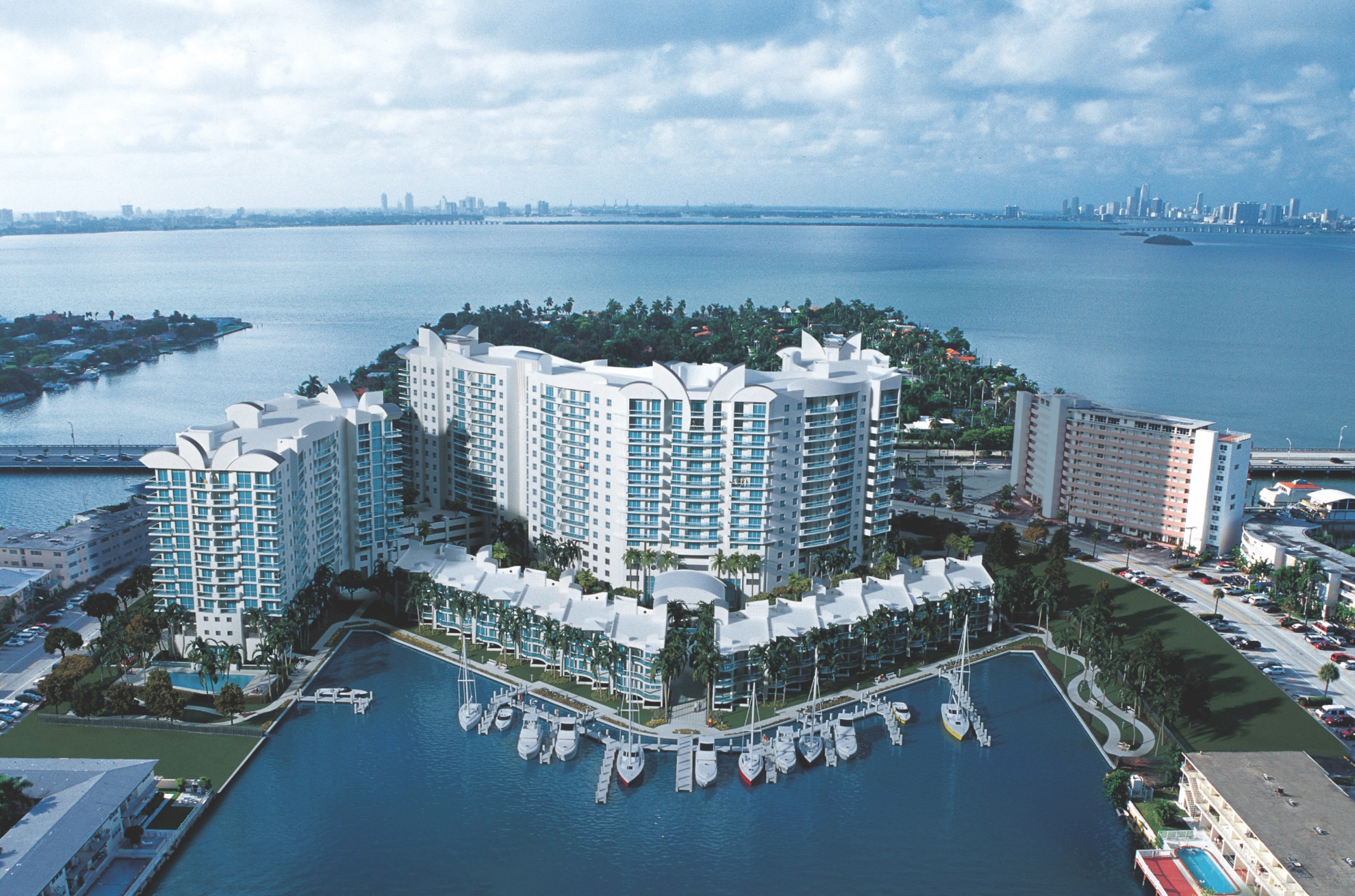 5 Miami Condos under $500k – September 2011 edition
Of course you can buy a Miami Beach condo for under $500,000! But you need to know who to work with and where to look, because not every Miami Condo is the same…..but I'm sure you already know that! For starters, maintenance fees will have a lot to do with size of building and amenities, so if you don't want to pay a lot in maintenance fees, let your REALTOR know that before you start wasting time looking at residences that don't interest you. Remember that maintenance fees will include insurance, so the additional insurance you'll need will be only for the interior (very different from a single-family home). Here are my 5 condo picks under $500,000 for September, they are at The Opera Tower, at The Marquis, Jade Brickell, Nine 45 Jefferson in South Beach and 360 Condo in North Bay Village. All are new buildings (oldest was built in 2004), and all differ when it comes to amenities. Let us know if you have any questions on these or any other Miami or Miami Beach condos.
1. DRAMATIC
In the Performing Arts District within walking distance to shopping, galleries, restaurants and Miami Heat Airlines Arena. Here we have a 2 bedroom, 2 bathroom residence on a high floor with gorgeous finishes and VIEWS! It has 1,048 square feet of living space and pays $551 in maintenance fees. This is the best purchase in this month's edition of 5 under $500k and it will have a lucky owner fast for it's $399,000 sticker price. I wouldn't be surprise if it sells for higher.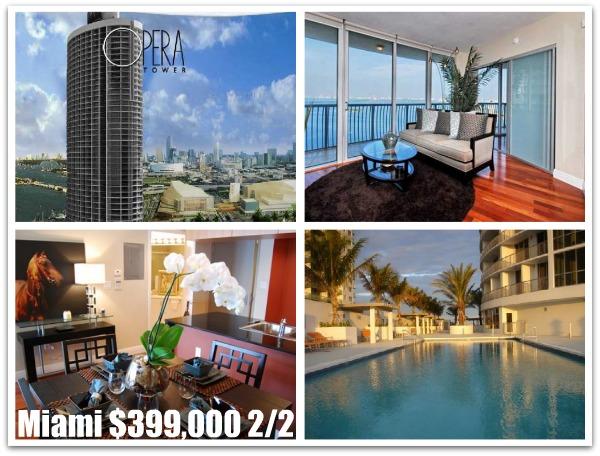 2. ARISTOCRATIC
This on is in one of the 4 Miami Heat Condo Towers and has a loft-style floor-plan that open up Biscayne Bay views because of the 2-story ceiling height. It has 1 bedroom plus a den and 2 bathrooms with 1,695 square feet of living space. White glass marble floors and California closets in a full-amenity building. The monthly maintenance is $1000 and it's listed at $499,000. I'm loving this residence and would jump on it myself if I needed a one-bedroom plus unit.
3. COVETABLE
Not a direct water view, but one nevertheless from this 1 bedroom, 2 bathroom residence in the HOTTEST area of Miami right now. Unit has 1,293 square feet and a monthly maintenance fee of $1047. The terrace is gorgeous and the amenities are the best of the best. It happens to be tenant occupied, which is great if you are looking for an investment in Miami and location is important to you. Priced at $495,000.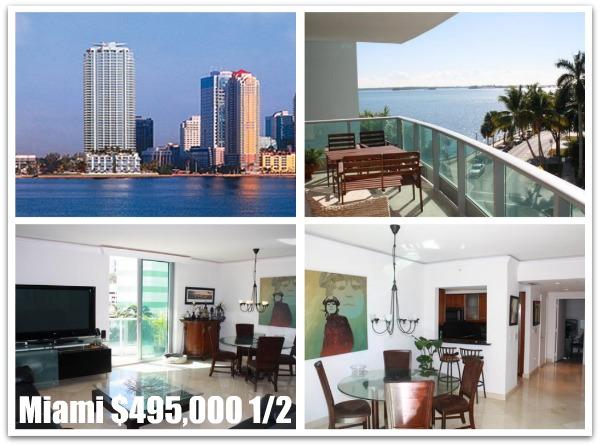 4. DYNAMIC
In the heart of South Beach! Nothing like buying a brand new condo where you can walk everywhere and still have coveted private South Beach parking. This residence has 1,213 square feet with 2 bedrooms, 2 bathrooms and a third floor den with a gorgeous roof-top terrace. There are only 5 units in the building and this one will allow pets and renting…. perfect for investment, for end-user and even as a vacation rental. Priced at $475,00 with $478/month maintenance fee.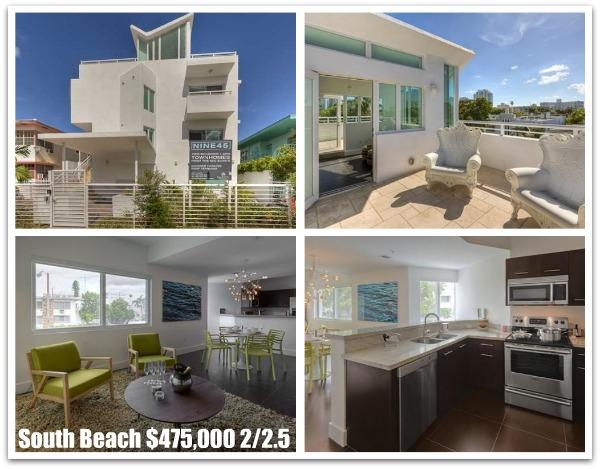 5. COMMANDING
Talk about Panoramic views from North Bay Village, which happens to be a stone throw away from both Miami Beach and mainland Miami. The location is perfect for commutes, keeping you away from the grind. Here we have a very spacious 3 bedroom, 2 and 1/s bathroom condo with 1800 square feet of living space. It's a lower Penthouse residence with 166 square feet of balcony, 2 master suites with large den. This is a pet-friendly and full service building and the maintenance fees are $753 per month. Unit is priced at $425,000.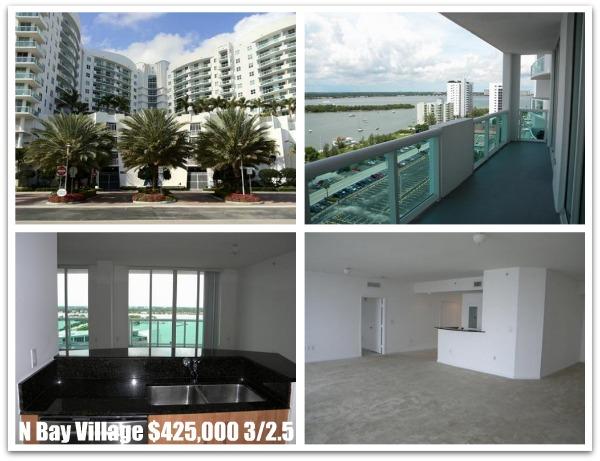 Another edition of 5 under $500 where you don't have to sacrifice design for price!