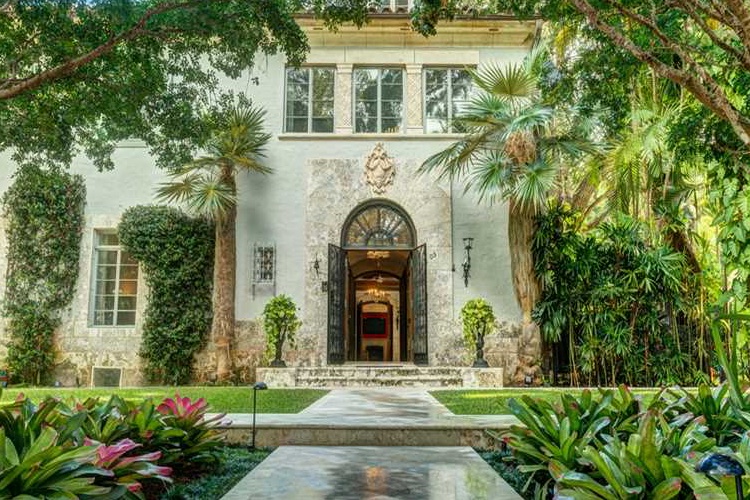 Miami Historic Homes – Phineas Paist in The Moorings
Before you start reading this post, I have to warn you that this historic home has a major WOW FACTOR!
As you know, The Miamism Sales Team specializes in architecturally significant homes as well as Historic Homes in Miami. We are happy to report that there is an amazing Phineas Paist designed home in The Moorings, that is for sale. As always, we ask that you please contact us to set up a consultation appointment with our real estate sales team and to schedule a private showing of this property.
Phineas Paist
Phineas Paist was the main architect for George Merrick, founder and developer of The City of Coral Gables. But before then, he worked as an associate architect to Paul Chalfin in building The Deering Estate (Villa Vizcaya). Some known local projects by Paist include Coral Gables City Hall, The Venetian Pool, Douglas Entrance, Coral Gables Police and Fire Station and The Miami Federal Court House. He was known for not only his architecture in Mediterranean Revival, Moorish and Beaux Arts style, but also for his magnificent watercolors. The Coral Gables Chamber of Commerce gives us a bigger insight into Paist:
Phineas Paist, the supervising architect, was largely responsible for ensuring the continuity of development of the city of Coral Gables and for creating the aesthetic codes that keep Coral Gables beautiful today. Paist established the Board of Architects Review Panel at the city's conception, an organization that remains in existence today. Paist was a known colorist and created a vibrant color scheme for the city that ranged from the pastels to the more intense, all true to the original Mediterranean style.
3505 S Moorings Wy – The Moorings home by Phineas Paist
This amazing estate not only features the most intricate architectural details by Phineas Paist, but sits on a Raymond Jungles landscaped 25,000 SF lot in The Moorings. The home was built in 1931 and has been restored and expanded with amazing taste and is a beautiful example of the marriage of old and new. The home has 3 stories, 9,481 square feet of living space, has 7 bedrooms and 7.5 bathrooms and boasts modern comforts like sauna, gym, 76′ lap pool, media room, studio and elevator. Phineas Paist is present wherever you look, from coffered and vaulted ceilings, to intricate iron work – arches, Historic Cuban Tile Roof, perfect window proportions. And then the Cherry on Top with Raymond Jungles gardens, courtyards and perfect Florida plant specimens. Priced at $6,800,000 $5,900,000
Marketing description reads as follows:
Designed by Phineas Paist on an enchanting Raymond Jungles landscaped Double Lot, this legendary estate from the 30's offers the romance of a bygone era while seamlessly updated & expanded; from the lavish sauna, cabana bath & gym flanking the 76′ lap pool to the media room, studio, large office & guest suites,no luxury is overlooked. Quarried limestone walls; inlaid marble floors; high ceilings, impact windows, Otis elevator, gracious courtyard,3 fireplaces, motor court & all balconied en suite bedrooms.
For more information about buying and selling historic homes in Miami, please contact historic@miamism.com or call the telephone on the website 305.758.2323. We will be happy to assist.

photos  courtesy of zillow.com