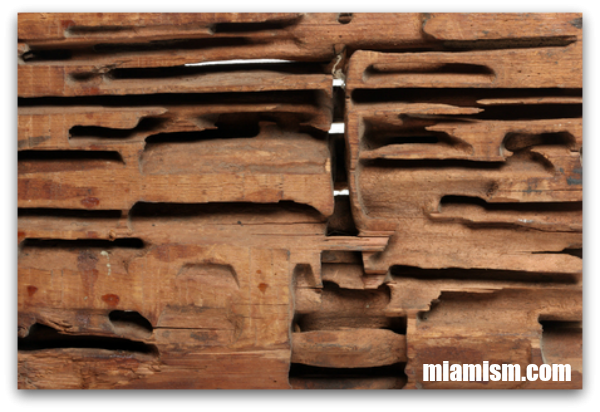 Miami Home Inspections – Evidence of Termites
Does Evidence of Termites mean you have termites?
When you buy a house in Miami and elsewhere, you should always do home inspections during the contractual "inspection period". Part of that home inspection should include a termite inspection. We actually wrote an article about not being alarmed about termites back in 2010:
First let me say that if you are buying a house anywhere in Miami or Miami Beach, it is very common to find evidence of termites. Termites thrive in humid climates and Miami = humid capital of the world which means EXPECT TERMITES! The real question for you as a buyer or even a home owner should be if there are live termites and second, how bad is the damage they have caused (if any).
But here is where it gets tricky, we have seen many termite inspectors simply tell buyers that the house has evidence of termites with not much additional explanation. There's a huge difference between active and inactive termites. There's also a huge difference with finding evidence of termites and actually having a termite infestation that requires treatment. Our advice always is, when in doubt, consult with a professional – but you need to beware: make sure there's no conflict of interest with that professional. You may need a couple of opinions. We've seen termite companies recommend unnecessary treatment which can be costly for both buyer and seller. And we've seen termite inspectors recommend treatment just to cover themselves as "professional inspectors": Don't be afraid to ask relevant questions directly to inspector:
Are there live termites?
Is there a termite infestation?
Does evidence mean the house has active termites?
Can evidence of termites appear after house has been treated for termites?
Can termite damage found be old and not necessarily mean there are active termites now?
Do you recommend inspections just to cover yourself since you found evidence of termites?
If evidence of termites was found in a small area of the home, does the whole house NEED to be treated or can it be spot treated?
You would be surprised at the answers, it's easy to get a generalized inspection report without explanation. And finally, if you do get a termite treatment, ask about a warranty – paying for an annual warranty will reduce the cost of treatment and will give you peace of mind. Sellers with a termite warranty can usually transfer those to buyers as well. Here are some helpful articles on termites:
*9/28/16