Miami makes Forbes America's Coolest Cities List
Good thing or bad thing? You be the judge….but in my opinion, if Miami makes a list, I'd rather it be the "Cool Kids Club" list rather than the "The Most Miserable Cities".

So what defines a cool city?  According to Francesca Levy from Forbes,
In these trendy metros, nightlife is hot and the people are cool.

Coolness is elusive and hard to define. To see whether perceptions of coolness matched up with reality–or at least how much fun a city offered–we compared coolness rankings against the number of bars, nightclubs, restaurants, museums, galleries, live theater venues and sports stadiums in each city, using data from AOL City Guides.

Many of the cities perceived to be cool have one thing in common: an abundance of things to do. And in a lot of cases, a city's coolness ranking aligned nearly perfectly with the number of venues
The criteria for coolness was the following:
To find the coolest cities in the country, market research company Harris Interactive polled adults across the U.S., asking them which of the 40 largest metropolitan statistical areas in the country they thought were the coolest.

These are the 10 cities that won out for coolness, alongside the number of nightlife, culture and recreation outlets in each place, as measured by AOL City Guides.
So Here's the List:
1.  New York (tie)
1.  La Vegas (tie)
3.  Seattle
4.  Chicago
5.  Oakland
6.  Orlando
7.  San Diego
8.  Los Angeles
9.  Miami
Number of Restaurants, Bars and Clubs (Rank): 10,098 (6)
Number of Museums, Theaters, Stadiums and Arenas (Rank): 194 (10)
Number of Galleries and Concert Venues (Rank): 626 (5)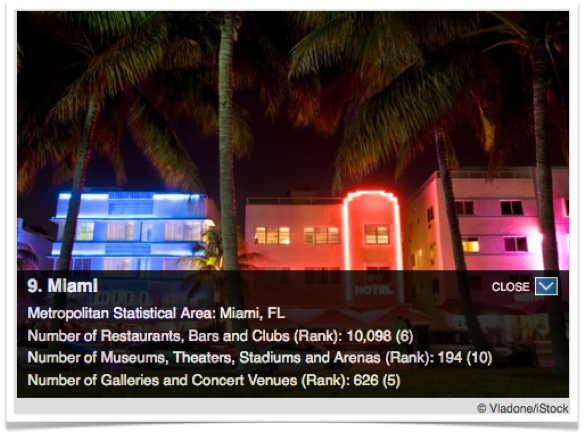 I personally don't need a list to know Miami is cool, but it's fun either way and love seeing other people's opinion of our amazing city.  The article also reads (and brace yourself, the LeBron effect is mentioned again),
Miami took the biggest big leap in coolness, moving from 19th place in 2009, to ninth place this year. In the past decade, the city has increasingly been recognized for its cutting-edge art scene, and hip galleries have proliferated. The 2002 introduction of Art Basel, an annual contemporary art festival that originated in Switzerland has helped force art-lovers around the world to grudgingly acknowledge the city's status as a high-culture taste-maker.

It's not clear whether recent news about basketball superstar LeBron James' defection to the Miami Heat did anything to affect the city's coolness factor–but if the team goes on to perform as well as many observers suggest, it can only help the city's reputation.