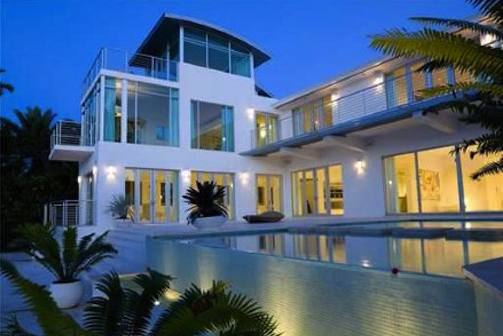 Miami Mod Homes – March 2012 edition
This month's Miami Mod Homes edition is located on Sunset Island number 2, with direct bay views and over 150 feet of water frontage. It is one of those Miami Beach homes that epitomizes our sexy South Florida lifestyle and evokes tranquility and elegance.
Miami Beach Mod Home at 1835 W 27 St
listed for $14,500,000 – SOLD for $12,900,000 on 12/21/12 CONGRATULATIONS to the Lucky home owners and also to the sellers who were smart enough to sell according to comps.
If the exterior of this home didn't catch your attention, then I don't know what will. The pool area is perfection! With infinity pool and the right combination of landscaping. together with leveled patios to enjoy unending views from different perspectives. I personally love when the facade of the house compliments the view. I don't know what is more pleasing to the eye, the actual architecture, or the vistas.
I've been detailing the home to death to try to find negatives and frankly, I can't find any. This contemporary home is simple and unpretentious, just like modern architecture should be. The choice of materials is fantastic – from woods, limestone and metals. The fact that you have wall space for art is a plus, since most of these homes focus on light and a lot of windows and never leave room for artistic expression on walls. The house has over 10,000 sf of interior living space with 7 bedrooms and 8 bathrooms. The lot size is 22,192 sf and has a 2-car garage and private dock. It was built new in 2009 and has been listed since September of 2010 with a starting price of $15,900.000. The current asking price is $1,450 per square foot. Keep in mind that the average price per square foot in 2011 in The Sunset Islands was $924, and Anna Kournikova just sold her Sunset Island Home for $1,116 per square foot. Does this mean that this seller would be willing to let go of this amazing modern home for $12 Million….only one way to find out!
One factor is for sure, this home is the perfect way to enjoy Miami's climate and lifestyle with location, privacy and style. Kudos to sellers in their choice of furniture and color which only serves to compliment the home's architecture. *article published 03/26/12 and republished 12/21/12 upon sale*