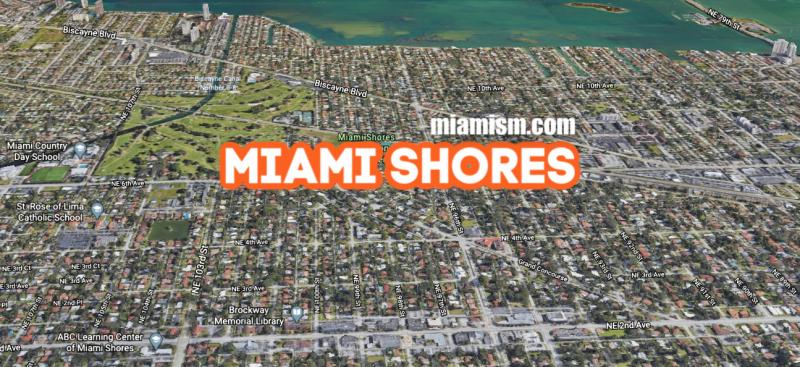 Miami Shores Real Estate Market Report – August 2020
How is the Miami Shores Real Estate Market Doing?
There are currently 57 homes for sale: (same as last month)
Highest priced listing $4,299,000 for the dry-lot, one-of-a-kind estate at 620 NE 101 St. This is 7 bedroom / 7 bathroom / 2 half-bath estate, beautifully designed and finished with 6,847 SF, on a 23,689 SF lot.
Lowest priced listing is $394,900 for the foreclosure at 142 NE 103rd St with 2 bedrooms / 1 bathroom, with 1,172 SF on a 7,725 SF lot.
Pending Sales (Properties under contract): 35
Median Sales Price in August: $557,500
Closed sales in August: 23 (Compared to 29 in July)
DOWNLOAD 3D MARKET ANALYZER REPORT HERE
What sold in Miami Shores in August?
There were 23 homes sold in Miami Shores in August.
Closed prices ranged from $308,000 for the probate sale at 174 NW 93rd St. with 2 bedrooms / 1 bathroom, 1,265 SF on 9,225 SF lot ($243/SF); to $967,500 for original 1935 home at 620 Grand Concourse with 8 bedrooms / 8 bathrooms, 6,900 SF on 11,532 SF lot. (selling at a $150/SF STEAL!!!)
Price per square foot ranged from $150 for the Grand Concourse steal (even if it was a fixer upper), to $409 for the home at 102 NW 106th Street with 3 bedrooms / 1 bathrooms, 1,457 SF on 9,465 SF lot.
For a list of all sales, please contact us and we'll be happy to provide.
DOWNLOAD 3D MARKET ANALYZER REPORT HERE
What is the average price per square foot in Miami Shores?
The average sold price per square foot in Miami Shores in August for homes not on the water was $310 compared to:
July's average $341
June's average $337
May's average $344
April's average $349
March's average $320
February's average $378
January's average $276
There were no waterfront homes sold in August in Miami Shores. Past month averages as follows:
July average $396 (one sale)
June average $761 (one sale)
May average – no sales
April average – no sales
March average – no sales
February average – no sales
January average – no sales
DOWNLOAD 3D MARKET ANALYZER REPORT HERE
Miami Shores Opinion

There are several hot markets in Miami right now and Miami Shores is one of them. With low inventory and high demand, sellers are starting to get more aggressive with their conditions and they can afford to. We are seeing buyers coming into the area that have not done their homework and not understanding why their low offers are not getting accepted.
The benchmark graph above grabs county and MLS data for the last 12 months, showing a Seller's market with only 4 months of inventory and average price per square foot of $316. And keep in mind that the market has done a complete shift in the last 3 months which favors the seller's side.
The average price sold is $649,000 and the price range that sells the most is between $400k and $700k.
75.8% of all deals are financed and 79.5% of all purchases are for primary homes, which means that Miami Shores has very few investors and second home owners.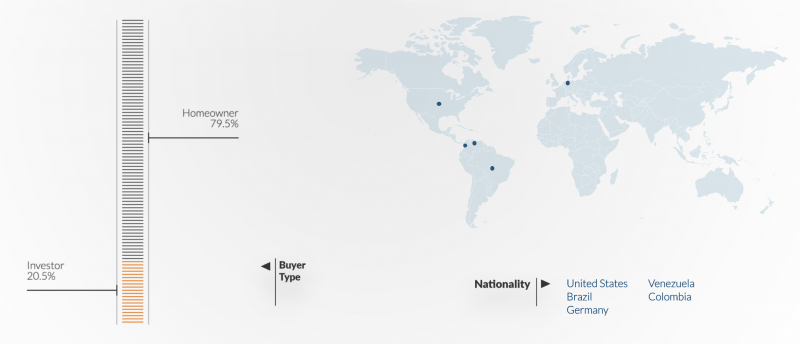 Buyers come from the US but also from Brazil, Germany, Venezuela and Colombia. In addition to these numbers, we also study demographic information to know who the audience is when marketing a home for sale. In today's real estate world, it's all about the analysis of data and empowering our clients into making decisions that work for them is what we are all about.
To ge a copy of our 3D-market analyzer report, please click HERE or contact us with your address and we'll be happy to provide a physical copy.
Featured Miami Shores Home For Sale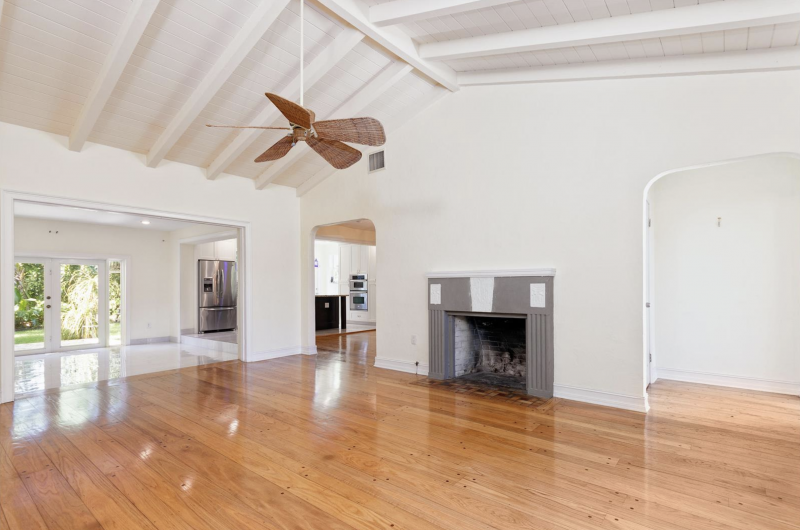 This month's featured Miami Shores home is located at 1022 NE 91 Ter, East of Biscayne Blvd, on a private street. It's a charming 1937 home that has been tastefully updated with original hardwood floors, fireplace and open kitchen. The home has beautiful light, open beamed ceilings and a fantastic master bedroom that faces yard. It has 2,500 square feet and sits on an 8,125 sq.ft. lot. It has 4 bedrooms (4th bedroom is converted garage) / 3 bathrooms, impact windows, natural gas and so much more.
Priced at $799,000 ($320/SF)
For additional information on this and any other Miami Shores Homes, please contact us or message us through any social media platform (@miamism).