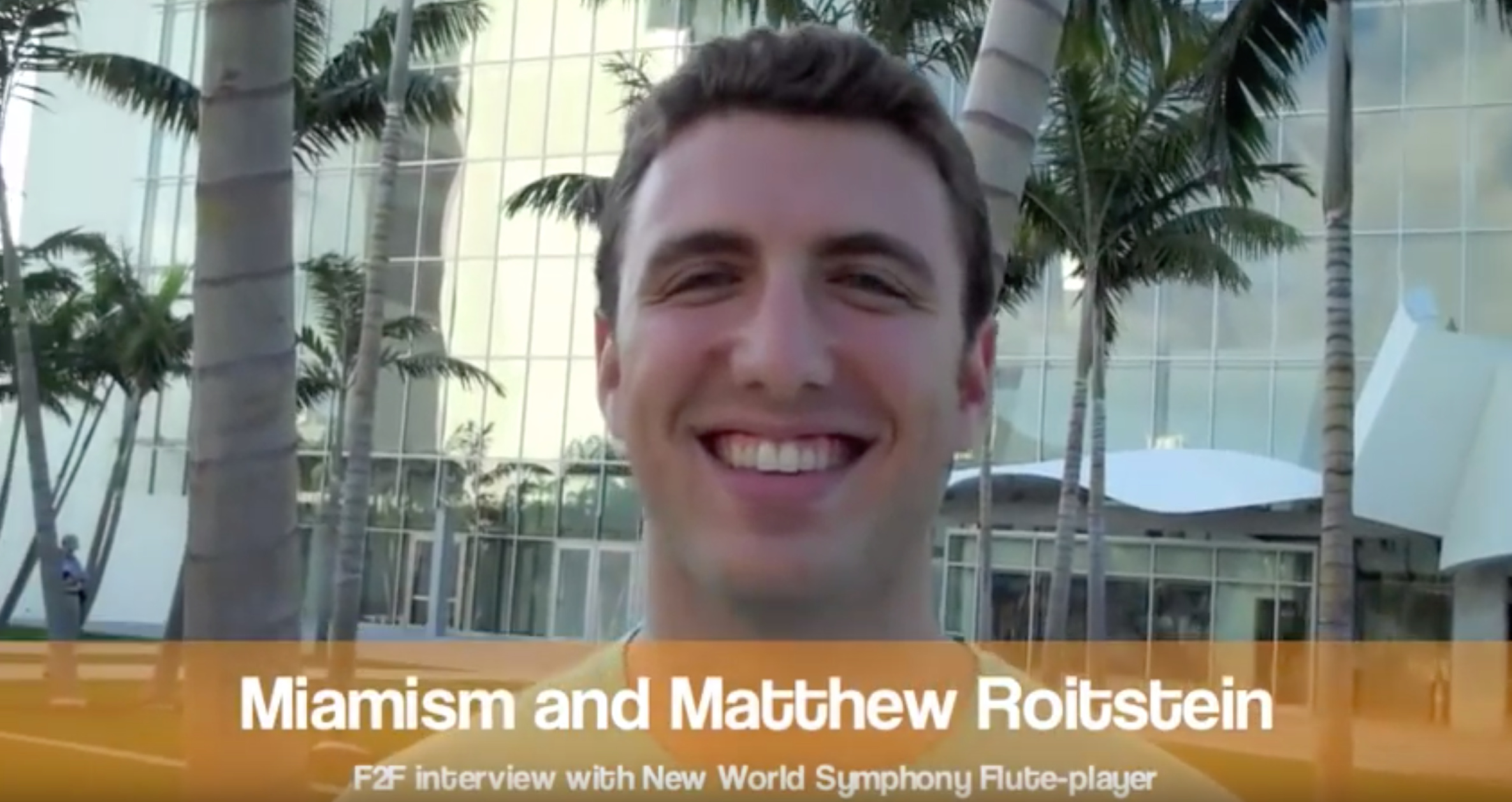 Miamism F2F with New World Symphony's Matthew Roitstein
Little did I know, when I started documenting Frank Gehry's new building in Miami Beach and got into heavy discussions about the New World Center, that we would have the opportunity to be exposed once again to the incredible world of classical music.
I had the honor of interviewing
Matthew Roitstein
, a flute-player for The New World Symphony last week. The idea is to give you a different perspective about the organization and the New World Center. An insider's point of view which will hopefully make you look into their performances and join them.
If you are even a little bit curious, take a look at The New World Symphony's calendar of events and see all the different types of concerts that are coming up (many of them FREE). Rick and I are looking forward to Pulse: Late Night at the New World Symphony:
Late Night at the New World Symphony will transform our Gehry-designed performance hall, atrium and rooftop garden into a nightclub-style social setting. Pulse will feature the artistry of Mercury Soul together with the New World Symphony in performances of theatrically enhanced contemporary music integrated into an evening-long set of DJ-spun electronic. Cocktail bars inside the hall, nightclub lighting and video projections will enhance the ambiance of these cutting-edge social, musical and dance events.
Also, go meet Matthew Roitstein in person on February 28th during his SOLO SPOTLIGHT. And please go check out the different WALLCASTS from the park at 7:30 PM on Saturdays in the next few months. Talk about an amazing way to have a picnic with your family or significant other.
Live Wallcasts™ will allow you to experience select events throughout the season at Miami Beach SoundScape through a striking use of visual and audio technology on a soaring, 7,000-square-foot projection wall. Bring a blanket, share a picnic dinner and enjoy the sights and sounds of the New World Symphony with friends and family! Wallcasts™ are free to the public and do not require a ticket.
Other Frank Gehry / New World Symphony articles: