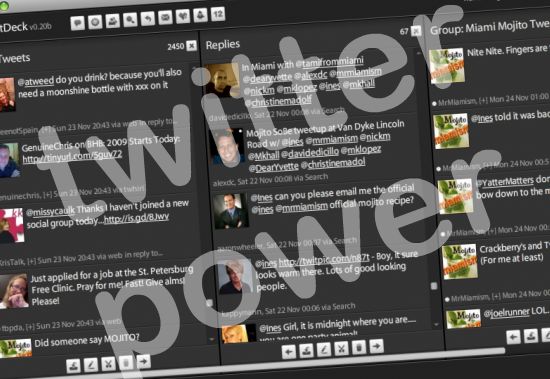 The Power of Hyper-local Twitter
---
We are hearing all this talk about the power of twitter and a lot of us do it for fun.  Heck! nothing better than being considered Twitterati or Twittercizing with @GingerW and @Housechick. But is there REAL value in twitter?  CAN you get business, CAN you really connect and engage at a local level that will benefit your business?
The answer is a big fat YES!  The bad news is that it does take some work…but it's WELL worth it!
As simple as a TwitPic
Here's what happened this past week.  Rick made me an impromptu mojito before dinner on Wednesday (yes he does that often and hence the MOJITO Staple that follows us).  I decided to take a photo of it and post it on TwitPic and soon started getting a bunch of responses from my local followers.
Oooh I love mojitos….when can we meet for mojitos…..we should have a meet-up…..that's a great idea….let's have a mojito tweet up…..how about Friday?……is anyone up for it……somewhere in south beach……let's do lincoln road……how about van dykes…..sounds great…..pick a time…..10:00 PM works for me…..anyone else……we have a miami mojito tweet up….spread the word….can't wait to meet you in person! Announcement:  MIAMI MOJITO TWEET UP on Friday at 10:00 PM at Van Dykes on Lincoln Road!
Nothing beats F2F
It was that simple!!  10 of us ended up meeting on Friday for a Miami Mojito Tweet Up and not only did we have fun, but we learned about each other and made a real life connection.   I will be honest, There's a part of me that says that engaging others should not be this planned and controlled, but the fact that the ten of us had the same motive and it was a small group, made it so much more personal and it was a total success.
So let's analyze this Tweet-up
We opened doors by going out of our way to meet 8 other people in our city.  These are people that are into social media as we are, they are in different industries and also see the power of engaging people on-line.  We learned about each other's businesses as well as made a real connection.  HELLO!! IS ANYONE PAYING ATTENTION HERE??.…this is HUGE!
By engaging people from our social media efforts and meeting them Face to Face, it is word-of-mouth-marketing at its best.  Think about the power of this.  The next time I'm on twitter and post a link or ask a question, these 8 people will be more likely to engage me, pay attention and pass on the information.  The next time these 8 people are asked about real estate, they will be more likely to think of us and recommend us.   Because of the reciprocal nature of social media, we will be more likely to recommend them and help them as well.
Powerful Viral Marketing
We left feeling closer to a group of individuals that just exchanged a couple of words on-line.  I now understand their tweets at a personal level, know about their kids, their real life and can now really understand what goes on in their world.  We didn't have to talk about business, we talked about music, soccer, dancing, pool – we had a few mojitos and ended up hugging by the end of the night (4:30 AM ahem).
So what are you waiting for!!!  Don't wait for 50+ people to show up at a tweet up!  Start small and come back and tell me how it went.  I personally feel great about these 8 people and will go out of my way to meet with them again.
Keeping Up
I use Tweetdeck and create groups – I have a group for Miami Tweeps and now one for my Miami Mojito Tweet Up Tweeps (that's a mouth full).  I know you can also save searches with all the people you want to keep an eye on and stay focused in a particular conversation.  There are tons of tools out there, but unfortunately, you'll have to ask one of our Agent Genius Geeks for the 411.
side note:  thanks to my Internet Conscience for ALWAYS giving me ideas to write (you know who you are)
** original article on AgentGenius.com **