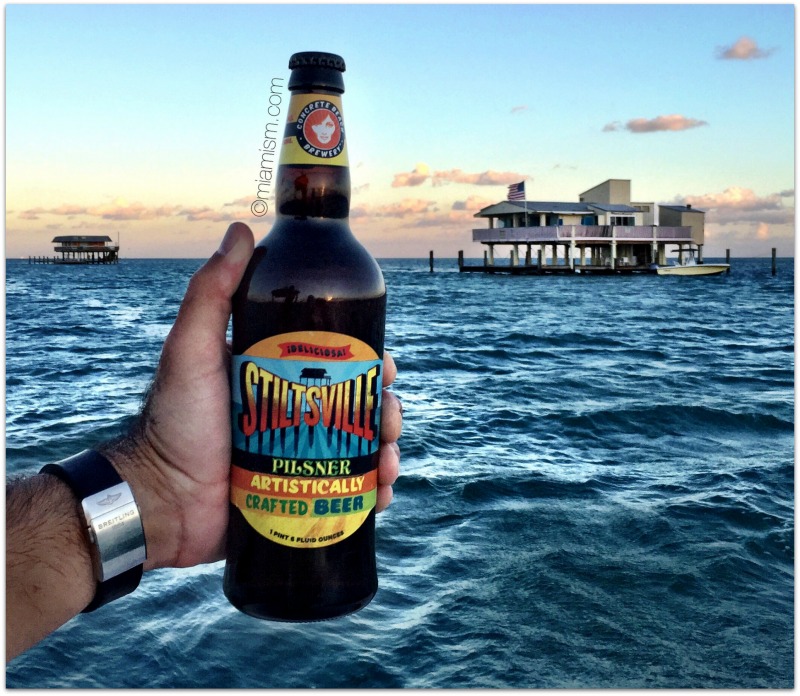 Throwback Thursday – Stiltsville #TBT
Stiltsville – A Miami Landmark and Local Crafted Beer
This Throwback Thursday #TBT is a bit different and inspired by beer. When Rick (my better half and business partner) first saw this Stiltsville Pilsner by our own Concrete Beach Brewery in Wynwood, he HAD to go take a picture at Stiltsville!
Yes, you read that correctly- he bought a few beers and we did a special miamism boat trip to Stiltsville just to get this shot. (And I'm the one that does crazy things for photos).
We visited the brewery in Wynwood and shared the photo with one of the employees.  Funny enough, they didn't know much about Stiltsville, maybe the same way we don't know much about their brewery.  So I decided to bring back our educational Stiltsville article from 2007.
Please make sure to click through and learn about STILTSVILLE.
We have shared professional Stiltsville photos by Michael Pancier and have retaken our own photos of the remaining homes.
Stiltsville IS a Miami Landmark and one that not many know about because they are only accessible by boat. We also encourage you to take a trip to Concrete Beach Brewery at 325 NW 24 St, in Wynwood.  Even if you're not into beer, the place is fantastic!  Here are some pics I took when I visited.  If they come up with a mojito beer, I promise I will do a Miamism Mojito Review.
*3/31/2016