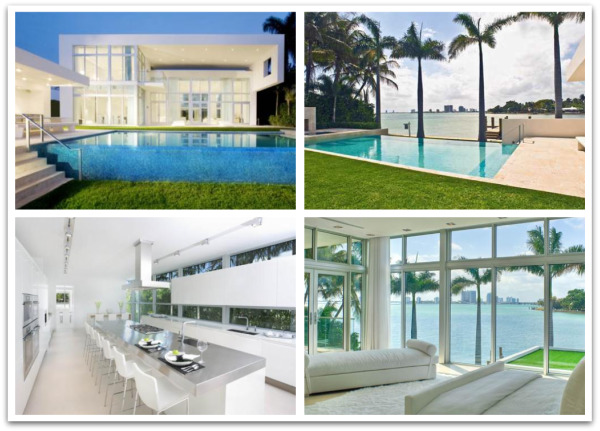 Top 3 Most Expensive Miami Beach Home Sales – September 2010
There were 13 Miami Beach homes sold in the month of September of 2010.   The highest sale Chris Bosh's pad for $12.3 Million and the lowest sale was a short sale in Normandy Island for $200,000.  Normandy Island has consistently been the lowest priced Miami Beach real estate, think about that if you are buying or selling there.  September top sales come from North Bay Road, Pinetree Drive and Palm Island and nice to see uber luxury properties moving (meaning the ones above $5 Million).   A drop in price has also been evident throughout Miami Beach for Luxury homes – those that seemed to have random pricing are starting to actually look at closed sales for comps, which just seems logical but never from a seller's perspective.
September's Most Expensive Miami Beach Home Sale
North Bay Road home – Miami Beach, FL 33140
Listed for $14,970,000 and sold for $12,333,000 on September 24th, 2010
We had our eye on this contemporary beauty for quite some time and started writing about it in May of 2009.  It was none other than Chris Bosh, one of The Miami Heat's 3 kings, who ended up buying the home at what the media calls "discount pricing".   The truth is that the home had quite a history with an original listing price of $18,000,000 dating back to April of 2009.  We can agree it's difficult to price a "one-of-a-kind" property like this, but selling at $1,028/sq.ft. is still amazing for the sellers.   The average price per square foot on the water on North Bay Road in the past 6 months is $848.  But Chris can rest easy that he did not pay the most in the past 6 months – it was the house located at 4640 N Bay Road that represents the highest price per square foot sale at $1348.  Here's the MLS description:
THIS MAGNIFICENT WORK OF ART IS SITUATED IN MIAMI BEACH MOST PRESTIGIOUS WATERFRONT AREA, ON NORTH BAY ROAD. GOVERNED BY THE THREE MAIN ELEMENTS GEOMETRY, WATER AND LIGHT. OUTSTANDING FEATURES INCLUDE CASCADING WATER AT THE ENTRANCE, GOURMET KITCHEN, GYM, ELEVATOR, IMPACT WINDOWS AND DOORS, SEPARATE GUEST QUARTERS, COURTYARD GARDENS, HEATED POOL WITH A COVERED SUMMER KITCHEN AND BBQ AREA. IT COMMANDS MORE THAN 100 FT OF PRIME WATERFRONT WITH A LARGE DOCK AND NO FIXED BRIDGES.
Features:
12,000 square feet of living space
built in 2009
Lot size is 24,000 sq. ft.
100 feet of water frontage (open bay)
North Bay Road location
7 bedrooms / 8 bathrooms / 2 half baths
elevator
pool
Summer kitchen
private dock
Turnkey
September's Second Most Expensive Miami Beach Home Sale
5245 Pinetree Dr, Miami Beach, FL  33140
Listed for $6,900,000 and sold for $5,250,000 on September 2nd, 2010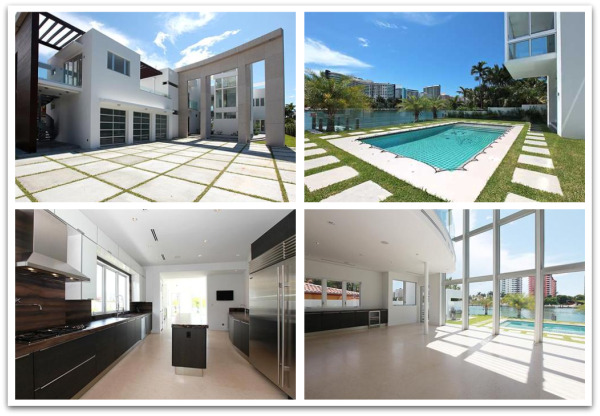 More contemporary architecture, which makes me very happy.  This time on Pinetree Drive overlooking Millionaire's Row.  The beauty of Pinetree is the size of the lots and the fact that you are surrounded by great homes.  Downside is the fact that you have to idle your boat for a very long time to get out to sea.  This property happens to be a show piece, from its marble and concrete floors to it's sound system.  Party house?  Definitely for one that likes to entertain.  The house was listed in May of this year and sold in less than 6 months – not bad!  The MLS reads:
Ultra modern 2 story home w/ 3rd floor entertainment roof top deck. Fully equipped w/ Creston's Top of the line audio/video, light system & touch panel climate control. Lrg windows, dramatic liv.rm w/22 ft. ceiling, open living areas & impressive winding staircase. Spectacular views from almost every rm.  Huge master suite w/ glass enclosed sitting room allows you to enjoy Millionaires Rows sparkling lights. Other features: Imported one of a kind stones, hi-end sec. system w/11 cameras, new seawall & dock
Features:
7,595 sq.ft. of living space
built in 2009
5 bedrooms / 5 bathrooms
14,640 sq. ft. lot
74 feet of water frontage
pool
Pinetree Drive location
entertainment roof deck
security system
private dock
September's Third Most Expensive Miami Beach Home Sale
216 Palm Av, Miami Beach, FL 33139
Listed for $2,995,000 and sold for $2,425,000 on September 8th, 2010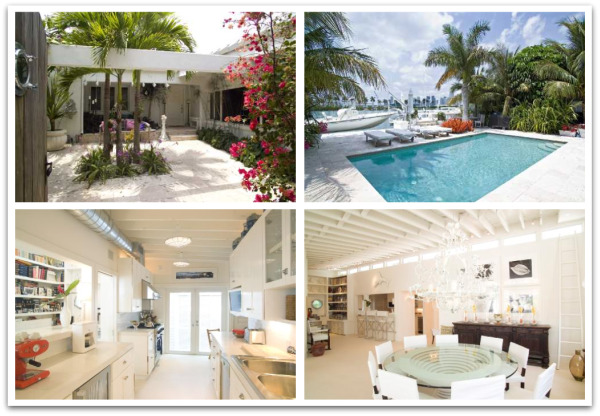 Here we have a Palm Island Home, one of the modest ones, with under 3,000 of square footage and only 50′ of frontage.  It does face South, directly to McArthur Causeway with a view of The Cruise Ships and Government Cut.  The house has an industrial feel to it with exposed air conditioning ducts, exposed ceiling joists and clerestory lighting.  Definitely a nice find for someone looking for contemporary with an edge.  The MLS description reads:
Waterfront delight. Located off the beaten path with a direct downtown view this renovated Caribbean style retreat is in the middle of the city and yet remote from it all. With 3 bedroom 3 bathroom, heated pool, French doors, lime stone floors, quartz stone counter tops, Viking stainless steel appliances and much more!
Features:
2,994 square feet of living space
built in 1955
3 bedrooms / 3 bathrooms
Lot size – 50′ X 180′ (9,000 sq.ft.)
50′ of water frontage
pool
Limestone floors
Quartz counter tops
private dock
**all information obtained from the SouthEast Florida Multiple Listing Service**