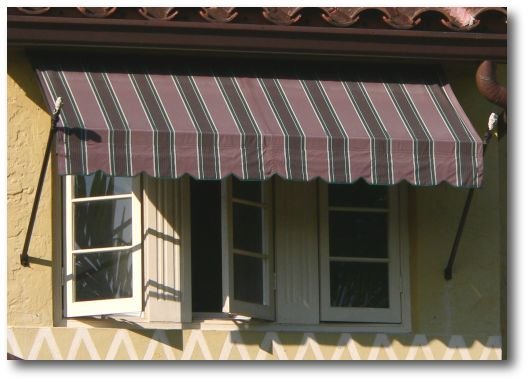 Use of awnings for your historic house
Just last week, a client asked me to explain the correct and incorrect use of awnings for Mediterranean Revival architecture for his Miami Beach home. I'm sure this will be an eye-opener for a lot of you, but the reality is that it is not rocket science. There are basic rules and some NO NO's (like anything else), and if I leave any stones unturned, I'm sure some of you will let me know.
First take a look at the previous articles I've written about elements of Mediterranean Revival homes:
Please understand that I am not making up these rules as I go. Restorations should be consistent with The Secretary of Interior's Standards for Rehabilitation, and as I've said before, educating yourself about historic features and their standards should be an important part of owning a Miami Beach historic home. These standards include examples of correct and incorrect repairs and replacement of roofs, windows materials and other elements. Now to awnings! The primary purpose of an awning is more functional rather than decorative, although I have seen very boring facades brought to life with beautiful awnings. Traditionally, awnings were installed only where necessary for shade and weather protection. Please keep this in mind when considering awnings for your historic home. There is nothing worse than seeing every single fenestration (window and door opening) covered by an awning. This is what I call "overkill". The basic rule for awnings is shape.
If the door or window opening is square or rectangular, only install rectangular or straight awnings, never ARCHED!
If the door or window opening is arched, only install arched awnings, never STRAIGHT!
Pretty simple, don't you think? Here are some examples of awnings installed in Mediterranean Revival homes around Miami Shores
.
These examples show the correct use of straight or rectangular awnings installed on rectangular doors and windows.
Never install an arched awning on a rectangular opening!
This is a beautiful example on an arched awning placed inside an arched opening. There are 2 types of arched awnings and one of them should NEVER be used in residential applications, and that's the bubble type awning. For those of you that have these, I apologize because you probably did not know any better. Bubble type awnings are more appropriate for commercial applications.
As for the color of awnings, this is definitely subjective. The stripped fabric is usually my preference, but in very busy facades, I have found stripes to be overwhelming. A lot of people think that solid colors are more formal and appropriate, but I really think it depends on the particular architectural elements of the house.
One piece of advise is to get a big swatch of fabric when choosing the color (especially if choosing stripes), most swatch books will have tiny samples that will make it very difficult to choose. A good awning company should be happy to supply a big sample of the fabric.
An awning can bring so much life to a facade, and can take the "boring" factor out whether you have a historic home or not. They can also be functional and energy efficient. There are many types and they are easy to maintain, just make sure you don't overdo it and think of the "appropriateness factor" before installing.
Also take a look at "The Use of Awnings on Historic Buildings – Repair, Replacement & New Design", for great detailed information.
** Leer en Español **
*originally published on November 8th, 2007*