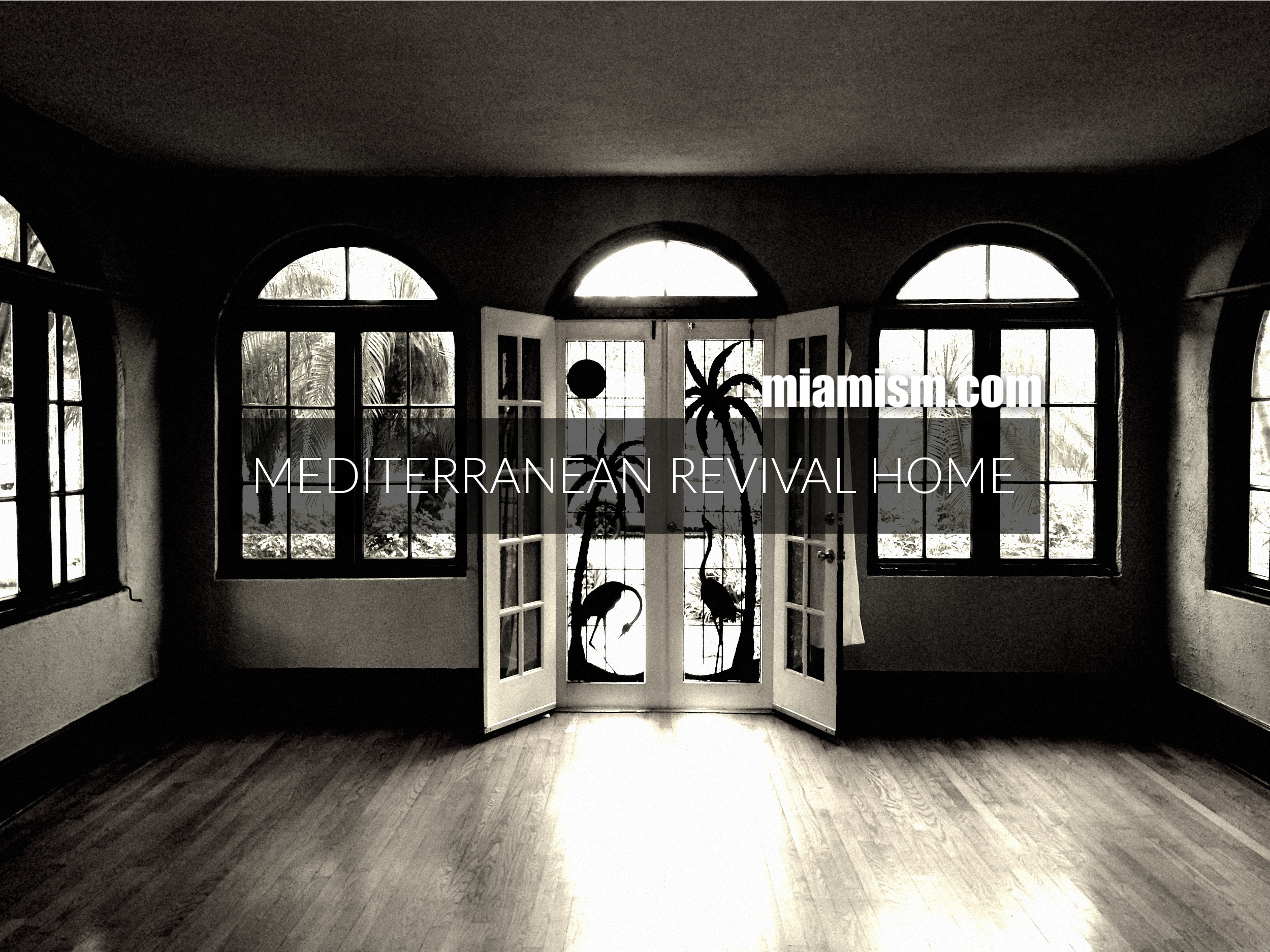 What to look for when buying a Historic House in Miami – Mediterranean Revival
As an architect, I love historic homes and the historic real estate market is one of my favorites. For those of you coming from other places in the US and even Europe or South America, historic homes in Miami will refer to homes built in the early 1900's all the way to the 50's (mid-century architecture). I will be doing a series of articles identifying the different historic home periods and what to look for when buying. There are 2 types of buyers of historic homes, the ones interested in historic preservation and finding homes that have not been butchered through the years with the purpose of restoring them to their original state or those buyers that love the charm but really don't care about preservation or restoration.
Whichever buyer you are, there are some things to look for when buying a Historic Mediterranean Revival Home in Miami:
How original is the house? has it gone through transformations through the years (additions and renovations) that may have changed the original character of the home.
Which features are still intact from when the property was built.

roof – historic Cuban tile
flooring – hardwood floor/Cuban tile/quarry tile
bathrooms – original fixtures and tile
mill-work – baseboards/crown molding/cabinetry/door casings
metal work – balcony and stairway railings
stucco – plaster on interior and exterior walls as well as ceilings
windows – wood casement windows or wooden single or double hung windows
fixtures (lamps, door hardware, knobs and pulls)
What is the condition of those original features (will you be able to match them or repair them as needed)
How easy is it to modernize the home without affecting its historical integrity?

Mediterranean Revival homes did not have central air conditioning, it's important to study how to effectively install an a/c system with as little interference to original structure.
2-story homes usually have a 2-zone a/c system to avoid soffits for a/c ducts.
you can expect galvanized plumbing and cast iron pipes which with the years do corrode. Most historic home owners replace pipes as they remodel and many times it can be done without tearing out existing finishes.
electrical systems where fuses in the 20's and would have to be upgraded to breakers as well as increase panel size for modern living. Keep in mind that wiring would also have to be updated to modern standards since they did use cloth wiring in that period. (which can be a fire hazard)
If the house has a Historic Cuban tile roof but it needs to be replaced, there are roofing companies that specialize is salvaging as much as the Cuban tile as possible and reusing it with a mixture of hand-made modern tiles. (look at my article on Historic Cuban Tile Roofs).
I am all for modernizing historic homes to fit today's living standards, but this can be costly. If you do want to replace windows, make sure you respect the original proportion to the final look and feel of the home is not changed. (look at my article on Using the right window)
When re-doing bathrooms, visit historic homes to get a feel of what colors and materials were used in the 20's. Pay attention to rectangular wall tiles placed horizontally and wainscoting as well as beaded boards. Honeycomb floor tiles, black and white schemes as well as natural stone.
Kitchens have changed quite a bit from the 20's, specially in scale. It's not unusual to walk into a grandiose Mediterranean Revival home with a very small kitchen. It is possible to increase the size of the kitchen to modern standards while respecting the scale of the original home. Think of timeless materials, those that will not go out of style in a few years.
Pay attention to the front door of the home. It is the most ignored feature of a historic home and it should not be. The front door will set the stage for the rest of the home, make sure that front door and hardware matches the period. Those modern doors with an oval stained glass will not be the right door (maybe I'll do a post on front doors).
Quarry tile floors came in all kinds of shapes and colors, even when they are dirty and look bad, they can be restored to perfection. The same applies to hardwood floors (which are easier to match to the original if they need to be repaired).
Pay attention to original hand-painted features throughout the home. There are many Mediterranean Revival homes with hand-painted wood beams, chair rails or stair railings. Many people choose to keep those details and use them as motifs for decoration.
Keep an eye out for structural flaws. It is typical to see some settling of floors in historic homes and some hairline cracks. A lot of the 20's homes will need some structural reinforcements and it is common to see some sagging floor joists. To make sure that the structural integrity of the home is intact, we always recommend for a structural engineer to inspect the home, that way you can identify minor or major problems.
Water intrusion repairs can be a pain, but if done correctly, can save you a lot of aggravation. It is common to see bubbling plaster under window sills or by doorways. Since the plaster used in the 20's was organic, the only way to totally eliminate the bubbling effect is by removing all the plaster in the area affected and re-plastering. Make sure you use a plasterer that is sensitive to existing textures.
A lot of people love historic homes but they are not aware of the amount of work that it can take to maintain or restore them. The point of these series is to inform you of what to expect when buying a historic home. If you have any specific questions on your historic home, don't hesitate to contact us. Rick and I have not only owned Mediterranean Revival homes, but we have painstakingly restored them and know what it entails. Having been a member of the Miami Shores Historic Preservation Board for many years, I also have visited many historic homes and I am in close contact with local historians. *original article published May 29th, 2008*