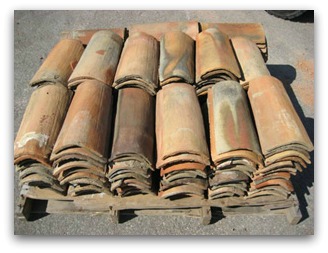 What is the right type of roof for a Mediterranean House?
I often get asked what the right type of roof is for a Mediterranean Revival home and it actually makes me happy to know that people who buy historic homes are interested in the correct way to restore these treasures. The answer is a bit more complex than just saying "The correct type of roof for a Mediterranean House is barrel tile". First, there are many types of barrel tiles and not all barrel tiles will be historically appropriate for a Mediterranean revival home. Historic Spanish-meds in South Florida, from the 20's and even earlier, were built with Historic Cuban Barrel Tile. It's one of the elements of a historic home that has a historic of its own.
Historic Cuban Barrel Tile
It is one of the key elements found in Mediterranean Revival Architecture. Key, because it is one of the most visible elements and
because without it, a historic house can seem stripped from its roots. It is a handmade or hand processed barrel natural clay tile, either made in Cuba prior to the imposition of the U.S. Embargo, or manufactured in 18th Century Spain, salvaged from buildings in Cuba and imported to the United States during the 1920s and 30s. (hence the name 'Historic Cuban Tile').
If you have a home with Historic Cuban Barrel Tile and it's time to replace your roof, it is KEY to hire a roofer that will know how to salvage the tile in order to reuse it for the new installation. (Not all the tile will be salvageable, but a roofer that specializes in historic homes will save a good portion of it and will be able to reuse the tile in the caps of the new installation, where it will be visible). A new installation will include a mix of hand-made tiles (or tile that is made to look like it is hand-made), together with the salvaged historic tile. If your home's roof was already replaced with another type of roof, you will also have the option to buy salvaged tile.
Replacing a Historic Cuban Barrel Tile Roof
Please note that if Historic Cuban Tile was not found on the property, there are many ways of building a historically appropriate roof. Historic Cuban Tile can be purchased, or when that is not financially possible, there are manufacturers of hand-made barrel tile that can be used to achieve the original look of the roof.
There are also roofers that specialize in historic roofs, not only in salvaging original historic barrel tile, but doing installations that are historically appropriate like reapplying the tile correctly, and using double caps and/or pans on the edge of the roof line. (photo above is by ArteZano's Sustainable Green Roofs – please check out their website since they are "Miamism endorsed")
When in doubt, we recommend that you reference the Secretary of Interior's Standards for Rehabilitation and contact your local historic preservation organizations. These 2 tools can be a wealth of information and prove to be valuable resources. The overall look of a roof with Historic Cuban Tile is that of an 'aged' or 'informal' nature. These tiles, because of their porous clay material will accumulate mold and pressure cleaning is not recommended.
There have been issues with many South Florida historic municipalities, including Miami Shores, asking for historic roofs to be pressure cleaned. My recommendation is to fight your battle and try to educate building officials. I am in the process of contacting the National Trust for Historic Preservation to see if there is anything they can do to help.
**published 1/2019