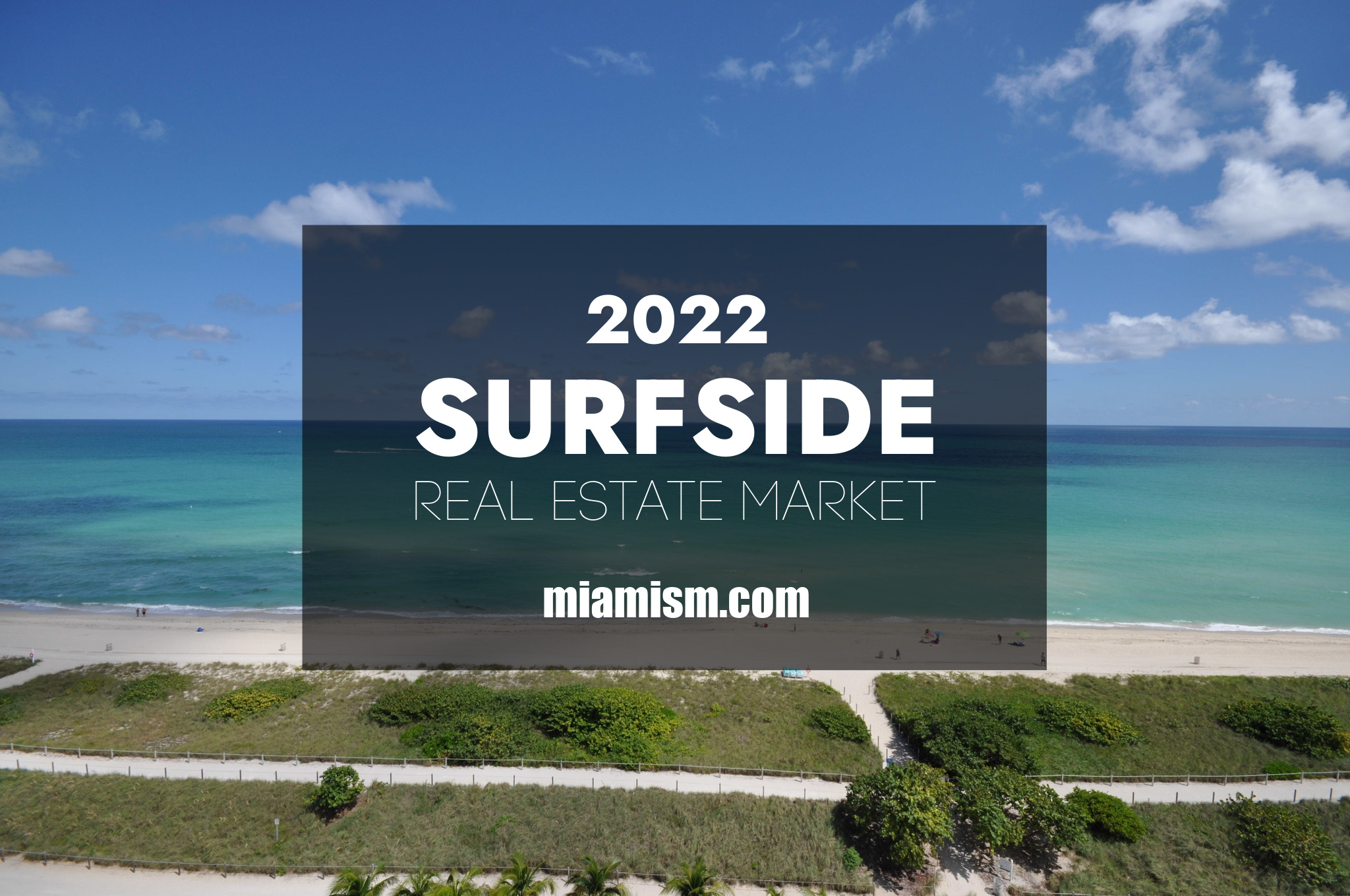 Surfside Real Estate Market Report for 2022
2022 proved to be another record breaking year for Surfside Real Estate as well as many other markets across South Florida and the rest of the nation.  Although there were a lot less sales, prices continue to increase.
The decrease in sales has a lot to do with increase in mortgage rates but the Median home price went up to $1,100,000 from $875,000 in 2021 and average price per square foot increased from $502 to $817!!
Is there a correction in the future?  My answer is a clear yes but we need to define "correction".  A real estate correction is a minor drop in the market as opposed to a market crash which is what most buyers are hoping for.  Logic tells you that if demand drops and inventory increases, there's bound to be a correction – but this will depend on mortgage rates.
Miami REALTOR's Chief economist reports that,
30-Year Mortgage Rate Drops for Fifth Consecutive Week to 6.31% Resulting in More Mortgage Applications. The sustained decline in the 30-year mortgage rate is starting to revive homebuying. Moreover, South Florida continues to attract people from high cost and high tax markets like New York and California. About 1 in 3 people who moved to Miami Dade County, Broward, Palm Beach and Martin County, and who exchanged their out-of-state licenses for a Florida license in 2021 came from California or New York, according to Florida Highway and Safety Motor Vehicles data compiled by Florida REALTORS®.
We now have 10 months of inventory in Surfside, which indicates a buyer's market – so let's keep a close eye on what interests do and how the market will correct itself.
The most important happening from Surfside, is the Condo Reform that resulted from 2021's condo collapse tragedy.  The Florida Legislature passed a new condo life/safety reform during the May special session.
As a result of this special session, lawmakers passed, and the governor signed Senate Bill 4D which provides an overhaul of the high-rise inspection law, requires more frequent recertification of safety standards and mandates that condo boards build up reserves so they can make needed repairs. Changes in the bill include:
Creates a statewide "milestone inspection" requirement for condominiums and cooperative buildings that are three stories or higher 30 years after initial occupancy, and 25 years after initial occupancy for buildings located within three miles of the coast.
Requires inspections every 10 years after a building's initial "phase 1" inspection.
Requires an additional, more intensive inspection, or a "phase 2" inspection, if a building's initial inspection reveals substantial structural deterioration.
Beginning in 2024, condo associations are required to conduct a structural integrity reserve study at least every ten years and prevents needed reserves from being waived.
As far as the future of the Surfside real estate market – although interest rates are expected to lower, a correction is bound to happen unless the market completely comes to a hault, which has happened in other South Florida markets.  No matter if you are a buyer or seller in this market, you need to be ready, you need to strategize and you need to work with the right real estate team.
Without further ado, here are this year's stats.
Surfside Homes – Price per Square Foot
Here is a list with average price per square foot in the past years for Surfside homes not on the water:
| Year | Price per SF |
| --- | --- |
| 2022 | $817/SF |
| 2021 | $502/SF |
| 2020 | $416/SF |
| 2019 | $386/SF |
| 2018 | $360/SF |
| 2017 | $382/SF |
| 2016 | $377/SF |
| 2015 | $350/SF |
| 2014 | $324/SF |
| 2013 | $270/SF |
| 2012 | $233/SF |
| 2011 | $193/SF |
We have a tendency to panic when markets slow down but did you see the price per square increases in the last 2 years??!!  From 2020 to 2021, there was and $86/sq.ft. increase – and between 2021 to 2022, there was a $315/Sq.Ft. increase!! Unheard of! Surfside may have low inventory, but demand continues to prove that it's a great market and data does not lie.
Take a look at the benchmark for Surfside homes in the last 12 months:

Some interesting stats from 2022 is that 60% of transaction were CASH transactions. 79.5% of all purchases were for primary residences, compared to 67% in 2021.  The average sale is $2.5 Million, compared to $1.5 Million in 2021 and average price per square foot has increased from $625 to $1086 (this includes waterfront homes too).
We offer market reports on a monthly basis for you to stay on top of the pulse of the market (2nd week of every month).  These reports help you identify the best time to buy or sell.
Download our latest 3-D Market Analyzer HERE.
Surfside Real Estate Market Report for 2022
The general figures for Surfside homes in 2022 are the following:  (click HERE to see 2021 figures)
There were 47 Surfside homes sold in 2022, compared to 87 sold in 2021.  The median sales price was $1,100,000 compared to $875,000 in 2021 and $740,000 in 2020.
The highest sale in Surfside in 2022 was for the waterfront home on the outside of Biscaya Island at 1380 Biscaya Dr. This 50's home was completely remodeled, with 6 bedrooms / 6 bathrooms, 2 half baths, 6,499 Sq.Ft. on 19,750 Sq.Ft. lot with 100′ of water frontage.  It sold at $12.875 Million ($1,981/Sq.Ft)
The highest non-waterfront home sale in Surfside in 2022 was for the remodeled 50's home at 9381 Carlyle Ave. Gorgeous pool home with 3 bedrooms / 3 bathrooms, 2,245 Sq.Ft. and 5,600 Sq.Ft. lot.  Selling at $2.3 Million ($1,024 Sq.Ft.) **cash transaction
The lowest priced Surfside home sold in 2022 was located at 8811 Carlyle Ave.  A 4 bedroom / 3 bathroom home with 1,795 Sq.Ft. and 5,600 Sq.Ft. lot – It sold for $870,000 ($485/Sq.Ft.). This was also the lowest price per sq.ft. in all of Surfside in 2022.
The highest sale per square foot in Surfside in 2022 was the the waterfront home at 9250 Bay Dr.  Home with 4 bedrooms / 4 bathrooms, 2,583 Sq.Ft. on 17,550 Sq.Ft. lot with 40′ of water frontage – selling at $9.4 Million ($3,369/Sq.Ft.) **cash deal
Download our latest 3-D Market Analyzer HERE.
List of Surfside Homes Sold in 2022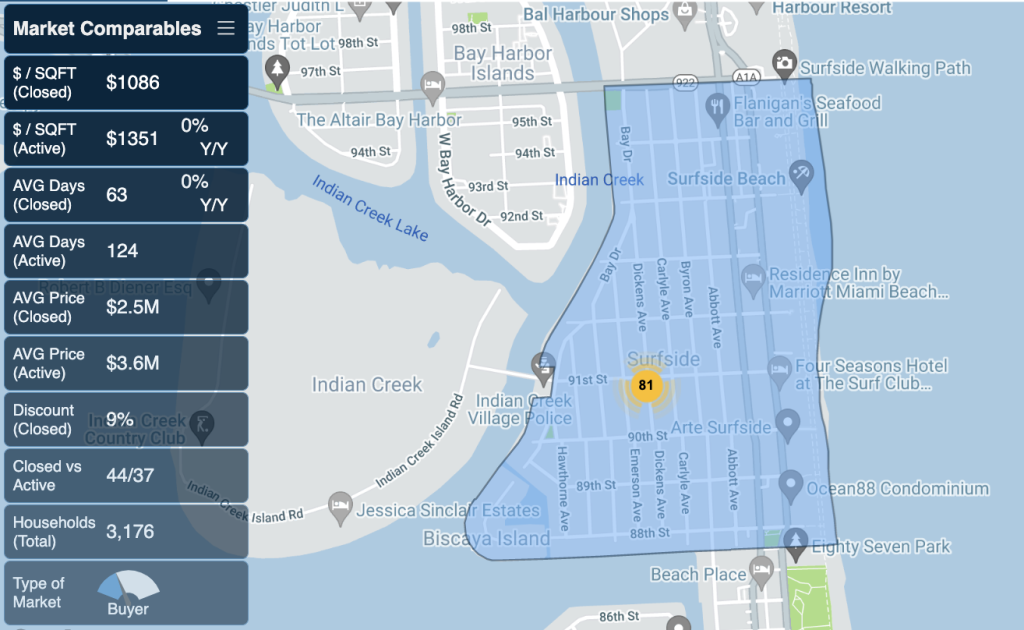 To get a list of all Surfside homes sold in 2022 please contact us.