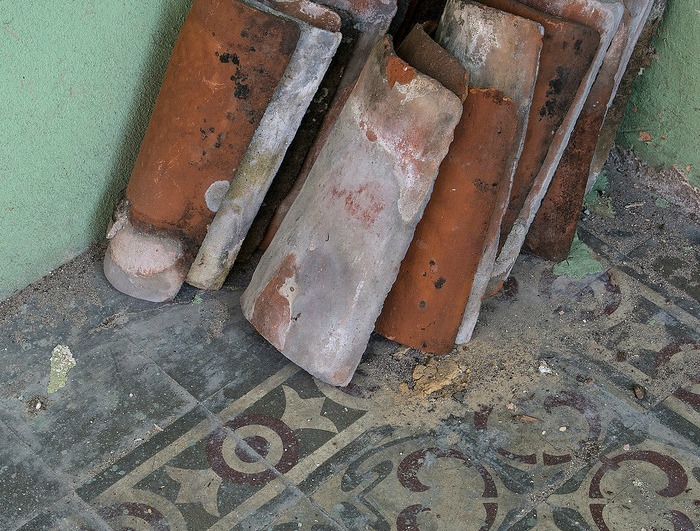 What is Historic Cuban Tile?
When it comes to historic homes in Miami, you hear about Cuban Tile quite a bit. We are your Architecture Realtors and think it's our duty to keep you informed. There are two types of Cuban Tile: one is Cuban Tile Flooring and the other is Historic Cuban Barrel Tile used in roof applications for Mediterranean Revival homes. Unfortunately, both are referred as "Cuban Tile" and you need to know context of conversation to know which of the 2 materials is being referenced.
Cuban tile flooring is a mixture of Portland cement, marble powder and earth pigments for coloring. The end result can be as shiny as Terrazzo floors and as beautiful as hand painted tiles.
Although Cuban Tile flooring was used from the 1920's to the 50's – intricate patterns are found in 20's Mediterranean Revival applications and the same floor patterns got simplified as the years progressed. I'm sure you've seen mid-century modern homes with single palette cuban tile floors that can be restored like terrazo. Please take a look at VillaLagoonTile.com as a resource (we have no relation to them). And read our complete article on Cuban Tile Flooring.
Historic Cuban Barrel Tile is one of the key elements found in Mediterranean Revival Architecture. Key, because it is one of the most visible elements and because without it, a historic house can seem stripped from its roots. It is the one single element that has a history of its own. It is a handmade or hand processed barrel natural clay tile, either made in Cuba prior to the imposition of the U.S. Embargo, or manufactured in 18th Century Spain, salvaged from buildings in Cuba and imported to the United States during the 1920s and 30s. (hence the name 'Historic Cuban Tile') Please take a look at Artezanos.com as a resource (also no relation to this company). And read our complete article on Historic Cuban Barrel Tile. We remind you, that as Miami's Architecture REALTORS, we specialize in historic and architecturally significant properties. Contact us if you are interested in buying or selling a historic home, or know of someone who is.
**originally published 2/29/2016